Zvoki iz Izbe (Sounds from Izba)
Monday, 30/05/2016
My photography exhibition focused on drummers of Plesna Izba Maribor, 1-22 June 2016 in Maribor, Slovenia
I'm very happy to announce my upcoming exhibition called "Zvoki iz Izbe" (Sounds from Izba) which is entirely focused not on the dancers of this great dance school, but on their drummers!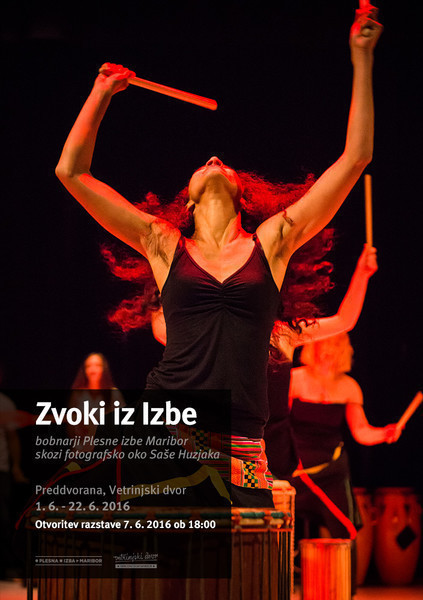 There are few reasons why this exhibition is very special to me:
I'm was truly grateful for the opportunity to start working with the dancers, musicians and mentors of Plesna izba Maribor way back in the 2008 and I still feel privileged to be around such a talented group of people.
In this few years that we've been working together, I'm happy to say that it hasn't been just working relations, but I've got to know amazing bunch of people and made long lasting friendships.
Plesna izba Maribor will celebrate 30 years next year, and a big photo exhibition is already being planed, so this one is a small intro to that one.
Last but not the least: dancers are the main focus of many of mine photographs which I took for Plesna izba Maribor, which is quite normal, since dance is what they're about. But, it's not just dance! They have few groups of drummers from all ages with amazing mentors and I guess that sometimes they feel left behind from the spotlights. Well, this exhibition is all about them! :)
The exhibition will take place in Vetrinjski dvor in the centre of Maribor in the period from 1 June till 22 June 2016.
The formal opening, due to absence of some key players, will be on 7 June at 18:00 - if you'll be in the neighbourhood, be sure to drop by and say hello :)