Emzin's "Photograph of the Year 2014" finalists and winners exhibition opening tonight in Ljubljana
Thursday, 20/02/2014
Opening at Cankarjev Dom, Ljubljana, 20th February 2014, 8 PM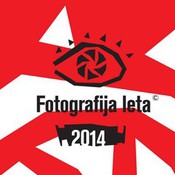 Emzin's "Photograph of the Year 2014" finalists and winners exhibition opening tonight in Ljubljana Photo: © Saša Huzjak
Emzin's "Photograph of the Year" competition was first organised in 1993 (has been running without interruption since 1997) when it got 40 photographers series submitted (one specific thing about this competition is that it only accepts series of work, not single pictures). This year, when it was organised for the 20th time, the organisers got whooping 271 photographic series.
Arguably "central Slovenian photography competition", is in a way a "who is who" in Slovenian photography, because many well known and established photographers living and working in Slovenia were at least once a part of it. Though this year the prize money awards, which were always a good way to help the artists, are not what they used to be (guess the ubiquitous crisis is the reason), I'm still very happy and proud to have my photos in this year's finals. To be completely honest, I don't know which of my works will be published because I've sent more than one series of images - will just have to wait and see :) Bodies in Urban Spaces is the series from which the judges choosed few photographs for the exhibition.
This years jury, consisting of Darko Bandić (photo-reporter, Zagreb), Metka Dariš (Emzin's art director, Ljubljana), Peter Granser (photographer, Stuttgart), Evžen Sobek (photographer, Brno) and Sarival Sosič (museum curator, Ljubljana) decided about the finalists which are going to be exhibited tonight, at Cankarjev Dom in Ljubljana, Slovenia, at 8 PM, where the winners of this years competition will be also announced. The exhibition will be opened for one month, until 20th March 2014.
"Based on its long tradition, the number of participants, expert jury and the attention it has been attracting, the competition Photography of the Year, which is organised by Emzin Institute and co-organised by Cankarjev Dom Culture and Congress Centre, has been established in the public mind as the central Slovenian photography competition."
To find out more about the exhibition and see past winers, visit Photography of the Year page at Emzin's website (version in Slovenian - Fotografija leta).