Best of - live!
Wednesday, 16/10/2013
My concert photography exhibition opens on 24th October in Maribor, Slovenia
Best of - live! is a title of my upcoming photography exhibition, that paraphrases the music compilations and a best of concept that this exhibition actually is. It is a selection of my best live music related work from the last few years, featuring a variety of my concert photographs, from local bands to world known artists, from rock'n'roll to jazz, from small clubs to big music festivals.
After my first solo exhibition of concert photography "It's not only Rock 'n Roll (but I like it)" that was held in Rijeka, Croatia, in March last year, and the dance photography exhibition "Virtuosos of dance - Virtuozi plesa" (Maribor, Slovenia, 2012), this is my third solo exhibition, and, proud to say, a first one in Maribor that features my photographs taken at concerts and festivals! As a sign of appreciation for my new town, number of photos that will be exhibited will feature Maribor's concerts and festivals.
The opening of the exhibition will take place at 24th October at 20:20 in Fotografski muzej Maribor, as part of the PechaKucha Night vol.13, which will include presentations of few Slovenian photographers (Rok Breznik, Branimir Ritonja, Matej Lozar, Mitja Sagaj, Maja Modrinjak and Tit Košir) and is sure to be an interesting evening for all interested in photography! The exhibition will stay open until 10th November 2013.
If you'll be in the neighborhood, be sure to drop by and say hello :)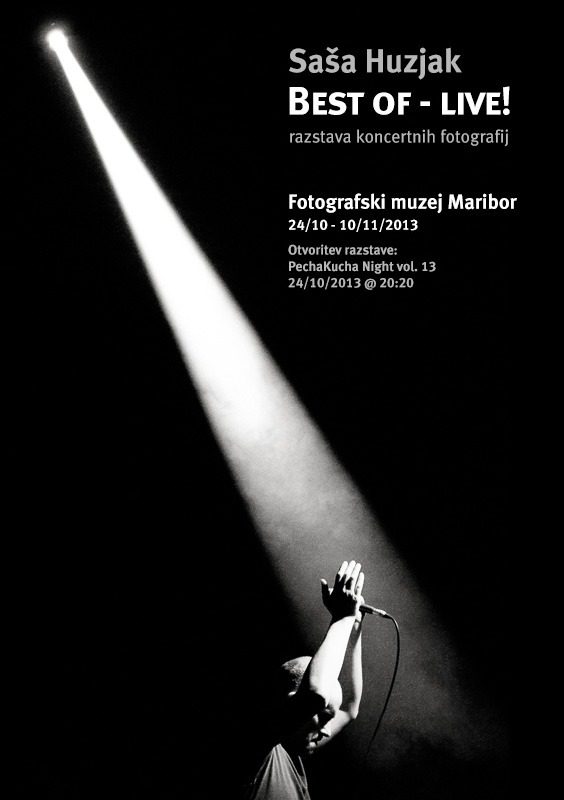 PS: I'm very proud to have a few words from a world known movie director Rajko Grlić, who was kind enough to recently write his thoughts regarding my photographs, that I'll use here:
Photos mostly capture an object they focus on and that is why, in most cases, they remain on a one-dimensional level of capturing reality. As opposed to that huge gray mass, Saša Huzjak's photos, along with the object, capture what's much more important for the real capturing of a moment: the energy the person on the photo emits, the emotion that comes out of them. That is why I think his photos are rare and relevant. With their exquisite simplicity and pure energy, they're photos which communicate directly and without any lies between the person on the photo and the one standing in front of it.

Rajko Grlić, movie director