Best of - live! In Zagreb!
Tuesday, 23/09/2014
My concert photography solo exhibition opens on 27th September 2014 in Zagreb, Croatia
After I had the opportunity to exhibit this selection of images in my new home town of Maribor last year, I am very privileged to have them on display them now in Zagreb. With few new additions, mind you! :)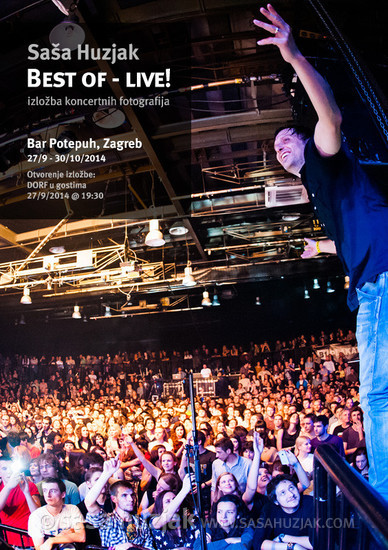 Saša Huzjak: Best of - live!
Best of - live! is a title of my upcoming solo exhibition, that paraphrases the music compilations and a "best of" concept that this exhibition actually is. It is a selection of my best live music related work from the last few years, featuring a variety of my concert photographs, from local bands to world known artists, from rock'n'roll to jazz, from small clubs to big music festivals.
The exhibition will take place in the Bar Potepuh, just above Dolac market in Zagreb, and the opening will be done as part of Festival of music documentaries DORF, that will be happening there for two days. I am very happy about this logical connection with the DORF, and actually, my first solo exhibition ever was organised when DORF was in Rijeka in March 2012.
The opening of the exhibition wil be on 27th September at 19:30, and the exhibition will stay open until 30th October 2014. If you'll be in the neighbourhood, be sure to drop by and say hello :)