Best of - live! in Koprivnica
Saturday, 21/01/2017
My live music related photography exhibition opens on 27th January in Koprivnica, Croatia
My first exhibition with this title happened in Maribor, Slovenia, my home town for the past eleven years, in a 2013, and after I had the privilege to exhibit selection of some of my best concert and festival photographs in few towns, now it will finally be displayed in the town where I was originally born - Koprivnica, Croatia.
"Best of - live!", like I've already written before, paraphrases the music compilations and a "best of" concept that this exhibition actually is. It is a selection of my best live music related work from the last eight years, featuring a variety of my concert and festival photographs, from local bands to world known artists, from rock'n'roll to jazz, from small clubs to big music festivals, from artists to fans.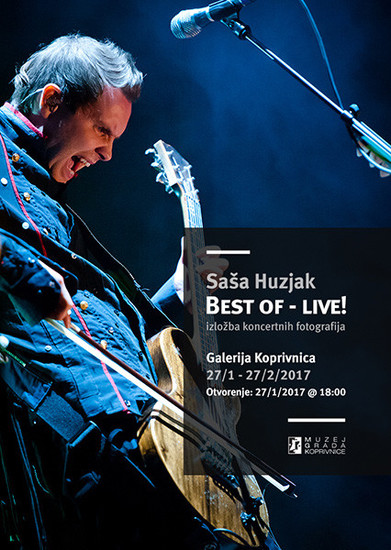 Poster for the exhibition "Best of - live!"
The exhibition will take place in the Gallery Koprivnica (Galerija Koprivnica), part of Town Museum of Koprivnica (Muzej grada Koprivnice) and the opening will be on the 27th January 2017 at 19:00. The opening will be the part of the Night of Museums 2017 (Noć Muzeja '17) - manifestation started by Croatian Museum Association (Hrvatsko muzejsko društvo) back in 2005 and held in different museums across the country that has Music as its main theme for this years.
And, what kind of music photography exhibition would it be, without some good music? There will be a soundtrack playing at the Gallery, consisting of some of mine favourite bands and artists from this region, who graciously allowed me to use their songs for this occasion. I won't be giving any names here, let this be a little surprise, but I want to give a big shout-out to them - thank you very much, girls & guys, you know who you are! ;)
The exhibition will stay open for one month, until 27th February 2017. If you'll be in the neighbourhood, be sure to drop by and say hello :)