My image gets commended at 2013 Sony World Photography Awards
Tuesday, 05/02/2013
Part of Top 50 in the Arts & Culture category
My image "Bodies in Urban Spaces" was commended in the Arts & Culture category of this years Sony World Photography Awards, making it in the Top 50 in that category!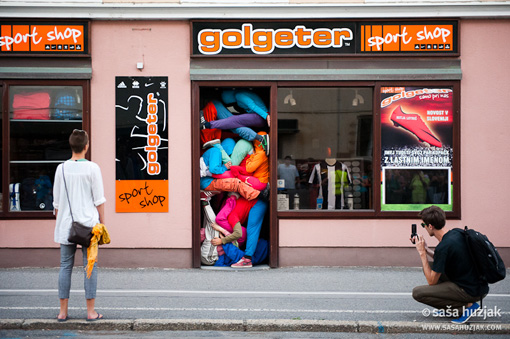 "Bodies in Urban Spaces", my image commended at the prestigious 2013 Sony World Photography Awards
The image, showing young dancers performing a temporary art installation in different architectural spaces called "Bodies in Urban Spaces" by Willi Dorner, was taken in Murska Sobota, Slovenia, during Front@ contemporary dance festival where I was a part of a great dance photography workshop with Chris Nash.
Although my image did not enter the Top 10 of that category, I am more than satisfied with my result at this very prestigious photo competition. Especially given the number of received photographs this year! This is what the announcing mail said:
"Being a commended photographer is an outstanding achievement with over 54,851 images entered from 170 countries and your image stood out to the judges."
Winning, shortlisted and commended images will will be shown digitally at Somerset House, London at the Sony World Photography Awards exhibition from 26th April - 12th May, 2013. The tickets for the grand opening where the winners will be announced are already on sale.
So, this year it was top 50 in the Arts & Culture category, maybe next year top 10? Hopefully so! :)
More info at www.worldphoto.org/SWPA2013.