International Photography Awards awards "Lost in music"
Monday, 22/08/2011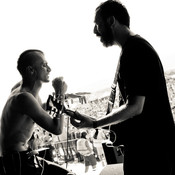 Like there is no one around - Dubioza Kolektiv (part of the "Lost in music" project) @ Bažant Pohoda festival, Trenčín (Slovakia), 2010 Photo: © Saša Huzjak
It was brought to my attention today, that while I was in between two festivals (Terraneo in Croatia and FM4 Frequency in Austria), jury of the annual International Photography Awards decided on this years finalists and winers. As it happens, they have awarded my project "Lost in music" the 2nd place in "Advertising : Music NON-PRO" category.
Check the winners of the International Photography Awards 2011 or check my project "Lost in music" in more detail.
About IPA
The International Photography Awards is a sister-effort of the Lucie Foundation, where the top three winners are announced at the annual Lucie Awards ceremony. The awards event will be held at the Lincoln Center in New York on October 24, 2011, before returning to Los Angeles in 2012 in celebration of the 10-year anniversary. Over 8,000 submissions from 90 countries were received for the 2011 International Photography Awards with over 70 jurors, the largest to date. The Foundation's mission is to honor master photographers, discover new and emerging talent, and promote the appreciation of photography. IPA is dedicated to recognizing contemporary photographers' accomplishments in this specialized and highly visible competition. Visit www.photoawards.com for more details.