Slovenia Press Photo 2017: my photo wins Culture category, single image
Tuesday, 06/06/2017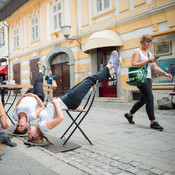 Slovenia Press Photo 2017 - Culture category, single image winner: Green table at Festival Performa Platforma, Maribor, 2016 Photo: © Saša Huzjak
Slovenia Press Photo (SPP) is a national festival of documentary photography and the biggest and most regarded yearly photo contest in Slovenia.
Besides the photo contest, Slovenia Press Photo also features lectures and round tables and this year it included some of the biggest names in the war photography genre including legendary Jon Swain and Enrico Dagnino.
The contest has five categories: News, Sports, People, Culture and Nature and environment, with every category having Single image and Series award.
I was very honoured that the international jury consisting of Zohra Bensemra (Jury President), Enrico Dagnino and Darko Bandić decided that one of my images is the best this year in the Culture category. Especially since this jury had high standards which meant that there was no Best Series in Sports category this year, and no Best overall Serial and Best overall Single.
The image in question show the brilliant urban performance "Green table" by choreographer Mateja Bučar that was performed last September in Maribor, as part of Festival Platforma Performa, with co-creators and great performers Evin Hadžialjević, Maja Kalafatič, Radharani Pernarčič and Nina Pertot Weis.
To be in the company of such great Slovenian photographers (to name just two - legendary Matic Zorman and Matjaž Krivic, both winners of the World Press Photo 2016) was also an award itself.
The exhibition of the awarded photographs will stay open in Cankarjev dom, Ljubljana, until 25th June 2017 and it will also be published as a special addition to "Sobotna priloga", Saturday's supplement of highly esteemed Slovenian daily magazine Delo, this Saturday.