Vzhodni prebliski (Eastern Glimpses)
Thursday, 09/06/2016
Group photography exhibition opens on 10 June 2016 in Maribor, Slovenia, as part of Photonic Moments 2016 - Month of photography festival
Just three days after formal opening of my photo exhibition Zvoki iz Izbe (Sounds from Izba) in Vetrinjski dvor (which is open until 22 June), another exhibition opens in the same great venue, just another exhibition space.
This time it's a group exhibition promoting local photographers (that are not so local anymore) - I'm very privileged to be in the group of my esteemed awarded colleagues which include Sandra Požun, Gregor Radonjič, Matija Brumen, Dejan Bulut and Rene Strgar. The exhibition is a part of Photonic Moments 2016 - Month of photography festival that hosts many great exhibitions mostly in Ljubljana.
Hipsta moments: Storm approaching (hommage to Hitchcock) @ Maribor, Slovenia, 2014
Few words about this contemporary photography festival from it's website: "Photonic Moments – Month of Photography festival was founded in 2005 as the first international festival of contemporary photography in Southeast Europe and its leading role in the region is kept until today. Since 2010 Photonic Moments is a member of EMOP – European Month of Photography Association which brings together photo festivals from Athens, Berlin, Bratislava, Budapest, Vienna, Luxembourg and Paris." Photonic Moments is organised and produced by the team of Photon – Centre for Contemporary Photography", whose "main attention is to promote and present regional artists working in the field of contemporary photography and artists' moving image".
Igor Unuk, the curator of this exhibition, was intrigued with my Hipsta moments iPhone portfolio, so I'm very happy to exhibit this kind of work for the first time in public.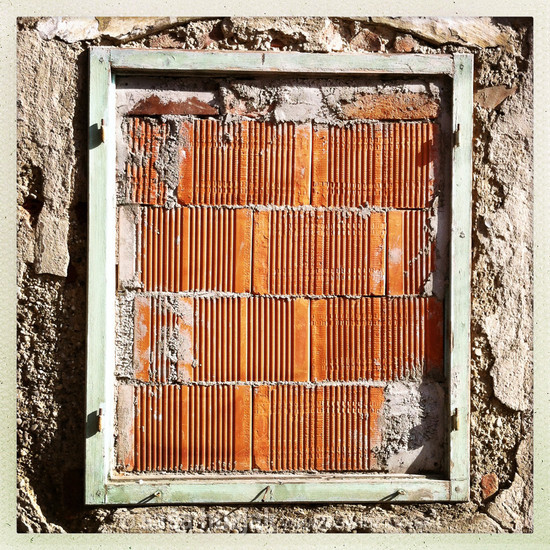 Hipsta moments: Brick window @ Maribor, Slovenia, 2014
The exhibition will take place in Vetrinjski dvor in the centre of Maribor in the period from 10 June till 15 July 2016, and the opening will be on 10 June at 19:00 - if you'll be in the neighbourhood, be sure to drop by and say hello :)