E-book (p)review: Matthias Hombauer: Guide To Rockstar Concert Photography
Tuesday, 29/04/2014
Self published (PDF digital e-book), 2014
Important update
Matthias was kind enough to give my readers a 10% off all his packages, valid until tomorrow, 30 April 2014, 18:00 (Vienna time) - just use coupon code basic10, pro10 or deluxe10 when checking out!

If you never photographed anything in a different mode than Auto or even don't own a DSLR yet, but want to start shooting live music performance, this manual will definitely help you. And not just that - if you have been shooting gigs for a while, but have some questions or problems, or are feeling "stuck in a moment you can't get out of" and don't know how to improve, this manual is for U(2) - sorry, couldn't resist that one :) But, wait, there's more - you had enough of shooting just in small clubs and want to tour with your favourite band? Step inside, some invaluable advices can be found here!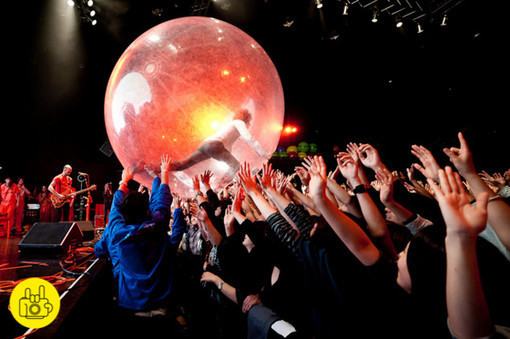 The Flaming Lips © Matthias Hombauer

Guide To Rockstar Concert Photography - Side A
Matthias Hombauer is a very talented, self-taught photographer based in Vienna, Austria. I've known about him for some years now, checking his website for some awesome concert and portrait images from time to time, and been reading his articles for (starting) concert photographers on sites like Manfrotto School Of Xcellence and Digital Photography School. And it wasn't just that - he also had a cool branding and a sense for business, and I don't mean business in a bad way. I got to know him personally on FM4 Frequency festival in Austria in 2011 that we both photographed and I found immediately him to be a genuinely nice and down to earth guy. We stayed in contact ever since, even planned to get together shooting another summer festival, but, that due to other obligations, sadly never happened. Which doesn't mean it never will :)
His latest project is this e-book which has "all the information necessary to become a Rockstar Photographer yourself". Written as a step-by-step manual, "Guide To Rockstar Concert Photograph" is a 160+ pages PDF book divided in four logical chapters, titled "For Beginners (Basics)", "For Rockstar Photographers (Pro)", "For Rockstar Photographers (Deluxe)" and "Music Business."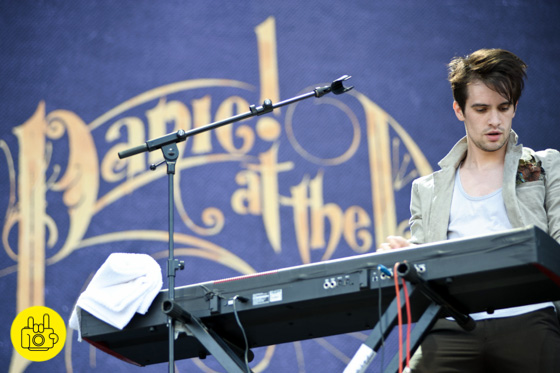 Panic! At the Disco © Matthias Hombauer
The author recognises the fear which comes with the shooting of your first concert, together with a bunch of questions that immediately follow. He admits in the beginning of the book that he also tried to find his way through trials and errors, so this book definitely helps with all those questions that a young photographer will have before experiencing his first live gig shooting.
Matthias also recognises another very important thing, and that's passion for the job (do know that very very little number of concert photographers out there make a lot of money, so the passion for doing it is a must). Photography business is a tough one, especially music photography, for reasons to many to mention here. After getting his Ph.D. in molecular biology, Matthias decided to go another (and a more risky!) route to completely follow his passion: he became full time photographer, shooting mainly concerts and band portraits. Another thing worth mentioning here is that he's been involved from his very beginning (or so it seems to me) to passing his experience and knowledge to all young photographers, hungry for any kind of information on the subject. You shoot landscape and want to know more about it? No problem, there are million of books on the subject out there. You're want to shoot concerts and don't know where to start? Well, that could be a bit of a problem, at least few years ago...
Internet age helped with that for sure and Matthias fully embraced it, so when he told me that he's planing an e-book about concert photography few months ago, it all made sense for me. Here's a guy who followed his passion to uncharted territories of his future life and a guy who happily shares he's knowledge with the ones who are interested in it.
I felt very privileged that Matthias involved me into making of his book and to be among few people who got the raw versions of his books for some feedback and comments. He also decided to make few video interviews with fellow concert photographers to ask them about their experiences and advices for young photographers, and Matthias was kind enough to include yours truly to the list, among Joy Dana and Sebastian Patter. He is a kind guy, I told you already :)
I felt I had to make a bit longer intro to the book than usual, since I personally know and respect the author and think that this is a book that many young and old concert photographers have been waiting for!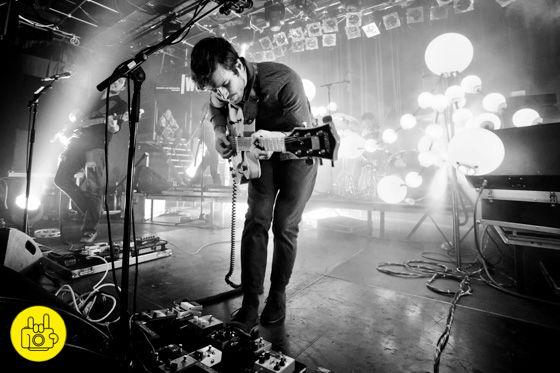 Portugal. The Man © Matthias Hombauer

Guide To Rockstar Concert Photography - Side B
So, let's talk more about the book itself.
The first part of the book is mainly targeted at rookies at concert photography (when you shoot your first concert, you'll probably realise how hard it is to get pin sharp, great light, composition and expression photographs). The second part is a must for all gig shooters that want something more - shoot for a band, tour with them, get backstage. Music business chapter is a must for them all, with Matthias giving some excellent advices, particularly of not giving your images for free (and devaluating work of you and your colleagues by doing it).
"Guide To Rockstar Concert Photography" really covers it all: from explaining the general basics of photography (the holy trinity of aperture, shutter speed and ISO) and concerts shooting in particular (e.g. press accreditations and rules of the photo pit explained, camera gear for those on a budget and those stepping up - if you are a gear freak, you'll love the chapter about gear and stuff Matthias has in his bag, sorry, backpack), to practical advices on building a portfolio, being your own toughest photo editor, post-production workflow, dealing with music contracts and shooting on-stage and backstage. And yes, advices on how to start making money of your concert pics (though, like I said before, not many will get much of it, due to the state of the business today)!
The book is beautifully designed with some great concert photographs inside (as one would expect). Tech tech savvy readers and those just starting out will find attached tech info of each photo invaluable - the usual camera and focal length, used, aperture, shutter speed and ISO settings.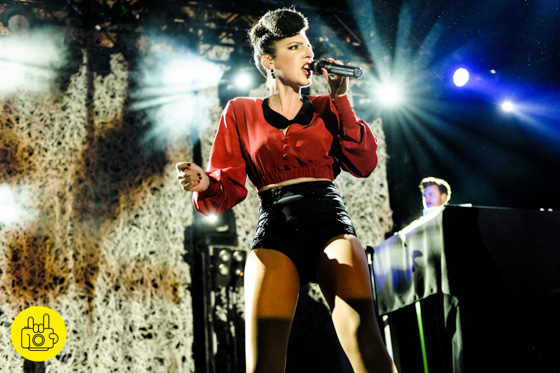 Parov Stelar © Matthias Hombauer
Every good author has a particular style of writing (as every photographer has his style of shooting), and I'm happy to say that I've really enjoyed Matthias' way of sharing his knowledge, with some great music lyrics references and some good humour attached. Basically: easy & fun to read, but with a lot of great information!
What I also like is the fact that, in a way, this is also a manual for shooting alternative bands, which is something that I also mostly do - you can see that immediately by the photos published in the book. Sure thing, you will find great advices that relate to any genre of music, but there are some invaluable tips for this kind of bands - for example, you won't find many crowd surfers on a jazz concert, but you might find few if you're shooting a hardcore group (and to be aware of them, all the time!). You get the picture (no pun intended).

Guide To Rockstar Concert Photography - Bonus tracks
Matthias prepared few different packages for his future readers out there, so there is the Basic package (160+ pages PDF book plus free access to the secret Facebook group page), Pro package (Basic package + 2 Lightroom Rockstar presets + 2 video interviews - Joy Dana and yours truly - plus Matthias' Lightroom workflow video) or the Deluxe one (Basic package + one hour 1-to-1 Skype Coaching Session with Matthias, 3 video interviews - Sebastian Patter, Joy Dana and me, 2 Lightroom Rockstar presets, Matthias' Lightroom workflow video and ultimate email template to attract bands directly). The choice is yours, but I'm certain you want regret it!
The best thing is that you can download a free sample and see for yourself what you'll get - I'm sure that you'll want the whole deal, and not just this freebie!
Regarding the extra content - you will get some extra cool tips in the video interviews Matthias did with fellow photographers, as I mentioned already before. For example, checking out bands that you're going to shoot on the YouTube before you go on a gig, to see what's happening on the stage and what can you expect (a tip by Sebastian Patter) is a great one, and the one I use very often.
Lightroom presets (b&w and a color one) are also a great addition which will make your workflow much faster, if only as a starting point in your post-processing of a particular image. The installation of the presets should be a piece of cake, since you not only get steps how to do it in a text document, but also a video showing the installation and few examples of what are presets doing to flat RAW photos.
Yet another addition to the book is Matthias' workflow video which shows his whole process of post-processing his RAW files, from coping to the computer after coming home from the gig to exporting post-processed watermarked images for the online use. Although my own workflow is a bit different (and I know I'm using too much time there!), I found this to be very informative.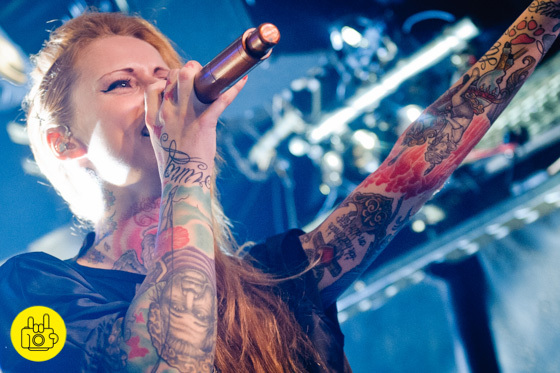 Jennifer Rostock © Matthias Hombauer

Guide To Rockstar Concert Photography - Encore
To put it briefly, Matthias' first book is a must have manual for all starting and feeling lost in the great world of live music photography. Also, even concert photographers that have been around for some time, will find an advice or two for themselves. Like I've already wrote, my only wish is that I had a guide like this when I was starting out (though I found some cool advices for me in the latter chapters of the book, too!). I'm sure there will be many more books to come from Matthias, and I can just say that I can hardly wait!
At these points in my life I'm really grateful that the hard work I've done for the last six years have paid off. Being patient, working hard and enjoying shooting music is a good way to get there.

Matthias Hombauer
Get more info and get your copy of the book (or a free preview) on the official book website that was published today (quite exclusive this preview, don't you think? :) ) - you won't regret it!
Also, check out his awesome work at his photography website and, more particularly, his concert and music related work at http://music.matthiashombauer.com.

All photographs published with author's permission.
Product info
Matthias Hombauer: Guide To Rockstar Concert Photography
Author: Matthias Hombauer
Format: PDF digital e-book, 168 pages
Publisher: Self published
Published: April 29, 2014
Get your copy at: