Book (p)review: Jill Furmanovsky: The Moment - 25 Years of Rock Photography
Thursday, 12/12/2013
Paper Tiger, 1995
Jill Furmanovsky is one of my favourite photographers of all time. Her work captures the visual image and, more importantly, possesses the spirit of that moment.

Jools Holland
"The Moment - 25 Years of Rock Photography" is Jill Furmanovsky's small biography (born in Southern Rhodesia, now Zimbabwe, Furmanovsky moved with her family to London in 1965), not only filled with her great photographs, but with her notes on her childhood, school years and of course, work in the music industry as a photographer that followed soon after. By a pure stroke of luck, she got her first job at the Rainbow club as a concert photographer and her career could begin, even though only 18 years old. And what a career it was! Two years after, she was already 6 weeks on tour with Pink Floyd, her favourite band, shooting for a book that sadly never came out.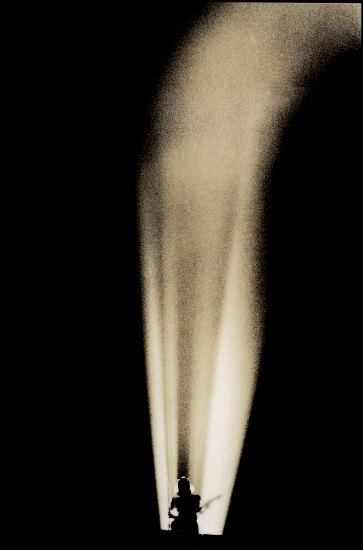 David Gilmour (Pink Floyd) © Jill Furmanovsky / www.rockarchive.com
This book is also a small history of rock and pop music of that 25 years period, with Jill Furmanovsky being really close to the source of the action - for example, in one period of her life she lived two doors away from legendary punk magazine Sniffin' Glue headquarters, who broke into an empty suite near her partner's, rock manager Miles Copeland's, flat. The punk DIY manifesto resonated with her very well, so not only did she took some of the very memorable photographs of that era (that boosted her career), she did design for some bands too (she studied textile and graphic design at the Central Saint Martins College of Art and Design). It was funny (and so obvious, now when I think about it) to read Jill's thoughts on punk live concert photos - because the places were usually so dark, one would have to use the flash, so that is why the photographs with "snarling faces frozen like wild animals in the headlight of a car - sum up that whole era".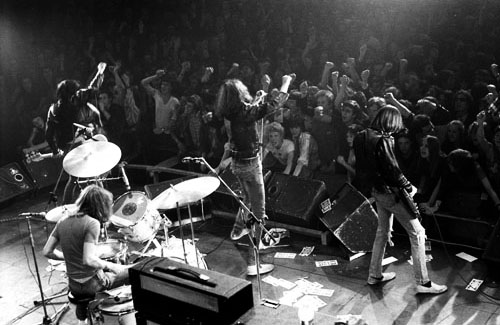 Ramones © Jill Furmanovsky / www.rockarchive.com
The book starts with Chic and The Undertones in 1979 and finishes with Oasis (with whom she had another great collaboration as their "unofficial official" photographer, but that's another story and another book) and Björk in 1995, and in between we have almost everybody that meant something in that period: Joy Division, Led Zeppelin, Pink Floyd, Brian Eno, The Clash, The Sex Pistols, Grace Jones, Madness, The Police, The Ramones, Iggy Pop, Mick Jagger, Talking Heads, XTC, Bob Marley, Paul Weller, James Brown, Blur, Stereo MC's, Lou Reed, Sinead O'Connor, Jeff Buckley and many, many more.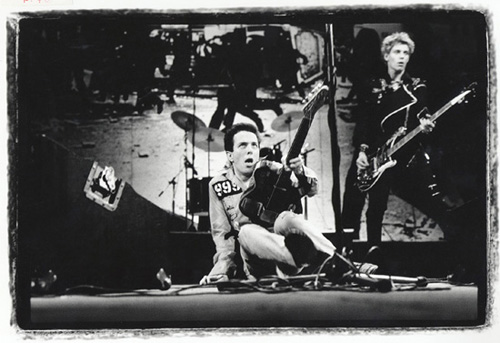 The Clash © Jill Furmanovsky / www.rockarchive.com
Furmanovsky also toured with many different bands - in those days, record labels were paying for that stuff, so the book gives us some anecdotes and "behind the scenes" moments as well as some inside info about the music industry back then. The one that made me laugh at loud was when she had a photo session with Meatloaf: "Asked if I should call him Meat, or would he prefer Mr. Loaf. I laughed, he didn't.". Brilliant!
Shy and extremely honest, Jill also admits her mistakes and openly talks about bands and managers, saying which ones were cool, and which ones weren't. She says that sometimes to be a girl in this male-dominated profession, was quite tough, but she also admits that sometimes that fact actually helped a lot.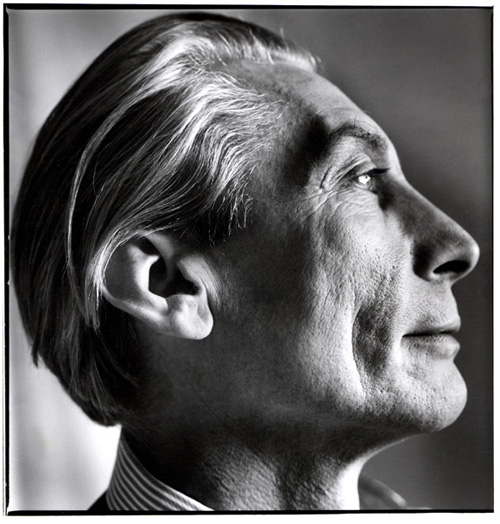 Charlie Watts (The Rolling Stones) © Jill Furmanovsky / www.rockarchive.com
Jill has won many awards for her music photography including The Jane Bown Observer Portrait Award for her classic Charlie Watts portrait in 1992 (which helped here "financially and otherwise" because she was at that time considering of giving up on her studio and possibly even her career). She was honored with the accolade "Woman of the Year" for Music and Related Industries in 1998 and she is a featured photographer in the "Who Shot Rock & Roll" exhibition, one of the largest curated exhibitions of rock photography in the world accompanied with a great book I've written about on my blog. She also helped found a brilliant collective of famous rock photographers called Rockarchive in the late 1990s, which, in addition to providing an outlet for the photographers to sell their work, aims to boost the profile of rock photography in general.
Short interviews she did with Sting, Chrissie Hynde from Pretenders and David Gilmour from Pink Floyd, on photography, music and more are great supplement to the book, showing us how different musicians can be when it comes to photography. For example, Sting knows how to "speak" to the camera, while Chrissie Hynde hated it in the beginning, doing different stuff to concert photographers that were shooting her and her band.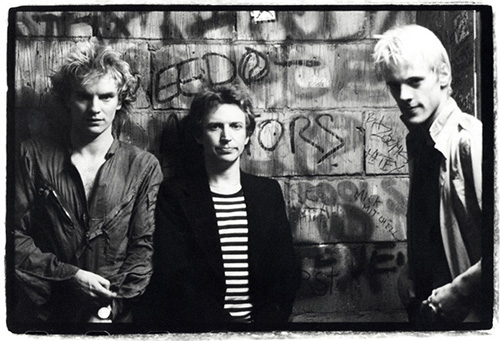 The Police © Jill Furmanovsky / www.rockarchive.com
Jill Furmanovsky worked the most in what may have been the best time for a music photographer or photojournalists in general - can you imagine record labels today paying for photo coverage of their bands on tour? I know it's still happening, but much less than before, when even famous newspapers are letting go of their entire photography departments today saying that journalists can use their smartphones and make images to accompany articles. She gives as a hint of bad times that are coming with her "Jeff Buckley situation" in the end of the book where she notes that "rock photographers of the 1990s need to travel with their lawyers to guide them through the minefield of copyright restrictions, not only from record companies, but also from publications, artists and managers". Truth be told, even in her time it wasn't all shiny and rosy - her photographs were published in the NME in one period of the magazine without any credits, but luckily, that changed when the photo editor of the magazine changed.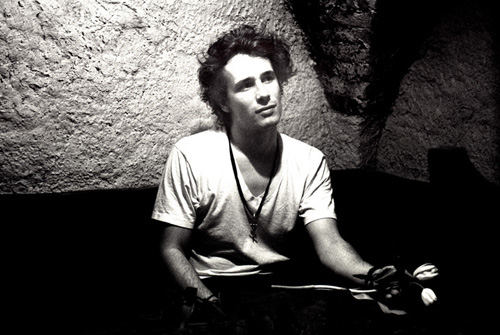 Jeff Buckley © Jill Furmanovsky / www.rockarchive.com
Published 18 years ago and more or less sold out (I've got mine used at Amazon), "The Moment - 25 Years of Rock Photography" is (still) a great book for any aspiring music photographer, as well as does more experienced ones. Not to mention fans of rock music of that period, of course. The only thing what I would like to see is reprint of this book, on finer paper and with hardcovers, because the book definitely deserves it. Or, even better, updated version with some new images too!
It took her some time to make this book, as she admits honestly, but I'm really happy that she did, because we got a great inside story of life and work of one of legendary music photographers of our time.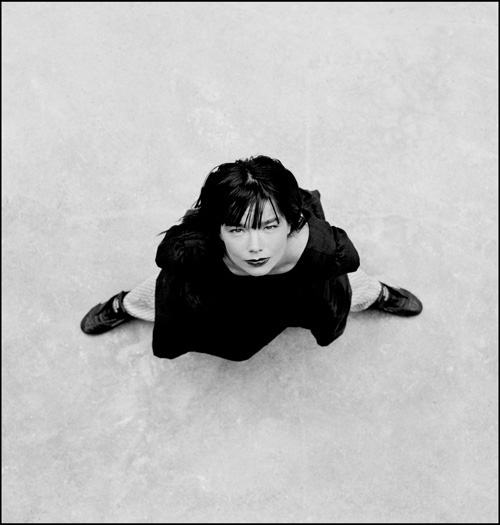 Björk © Jill Furmanovsky / www.rockarchive.com
As a special bonus, read a great interview with Jill Furmanovsky and find out more about her at Rock Square.

All photographs published with author's permission.
Product info
The Moment - 25 Years of Rock Photography
Author: Jill Furmanovsky
Format: Paperback, 160 pages
Publisher: Paper Tiger
Published: October 12, 1995
ISBN-10: 1850281491
ISBN-13: 978-1850281498
Get your copy at: