Photo book "Moj vikend u zemlji čudesa" is out
Friday, 11/11/2011
Photo book documenting the recording of Pips, Chips & Videoclips live DVD "2x2", with 40 pages of good stuff for bands fans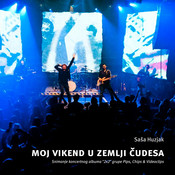 Photo book: Moj vikend u zemlji čudesa - Snimanje koncertnog albuma 2x2 grupe Pips, Chips & Videoclips Photo: © Saša Huzjak
After six studio albums and one unplugged, Croatian band Pips, Chips & Videoclips filmed their concert to be released as a live DVD. Well, today this long waited DVD called "2x2" (they were playing and filming two concerts in two nights at Zagrebački plesni centar in Zagreb, Croatia) is out! You can order your copy on the bands website.
Directed by famous Croatian music video director Radislav Jovanov Gonzo, the DVD contains some of bands greatest hits (and maybe some less known ones) from their 15 years discography history. Accompanying booklet contains photographs that I took on this two nights, plus the ones from the rehearsal the day before, alongside the ones by my colleague and fellow shooter Ksenija Mikor.
To mark this special occasion, I decided to publish a photo book with the photos from this three days in March this year in Zagreb, and the easiest way was to use one of self-publishing services online. For what is my first photo book self-published, I decided to go with Blurb for many different reasons.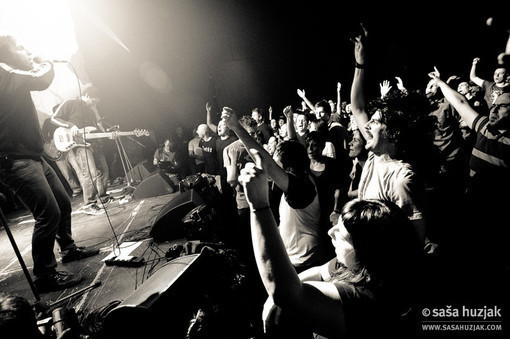 Dubravko Ivaniš (Pips, Chips & Videoclips) while filming "2x2" @ Zagrebački plesni centar, Zagreb (Croatia), 2011
Titled "Moj vikend u zemlji čudesa - Snimanje koncertnog albuma '2x2' grupe Pips, Chips & Videoclips" ("My weekend in the Wonderland - Recording of a live album '2x2' by Pips, Chips & Videoclips"), which is a homage to the official biography of the band ("Dugi vikend u zemlji čudesa" - "Long weekend in the Wonderland", by Ante Perković, 1997), this is a 40 pages photo book contains colour and black&white photographs taken from the March 3rd till 5th of 2011 in Zagreb, plus features some previously unpublished photographs.
You can flip through the book bellow, or order your copy at the Blurb website (softcover and hardcover both available). As a special bonus, you can save $10 on your order* if you order your copy before November 30, 2011 using the promo code BIGTEN.
* Promo code offer valid through November 30, 2011 (11:59 p.m. local time). Receive USD $10.00 off product totals. Minimum purchase is USD $29.95. This offer is good for one-time use, and cannot be combined with other promotional codes, volume discounts, gift cards, or used for adjustments on previous orders. The price does not include sales tax and shipping.