How to rescue photos from a formatted memory card: Keep calm and don't shoot!
Wednesday, 27/08/2014
A short tutorial on restoring your precious and accidentally deleted photographs (or any other files, for that matter)
One of the worst nightmares of every photographer is surely the one where he accidentally erases all (or just some) of his images from a memory card, without copying them to the computer first. I've been lucky that this didn't happened to me before (though, one would argue that this hasn't got anything with luck, because, as we all know, shit happens), but as everything happens for the first time, it actually did happen to me just recently. Luckily, I got all of my images back, and in fact it wasn't such a stressful situation, as one would expect, because I was prepared :) That is why I wan't to share this with fellow photographers who didn't have this kind of situation so far, so they'll know that all is not necessarily lost in this case.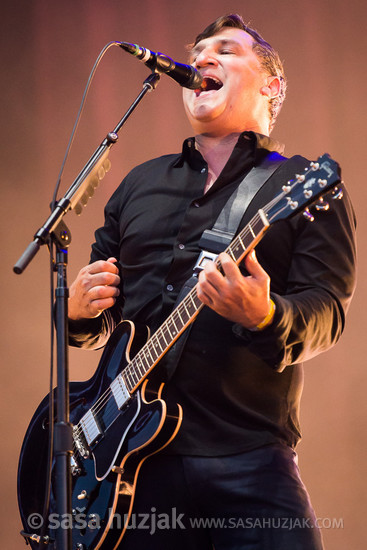 One of the images that was restored from the card: Greg Dulli (The Afghan Whigs) @ Bažant Pohoda festival, Trenčín (Slovakia), 10/07 > 12/07/2014
The importance of backup
I want to stress in the beginning that I am a firm believer in backup. After every shoot, I copy my images to my computer and to my external backup disk. The used memory card(s) get(s) formatted only when I have this images copied at two different locations and usually post-processed. You'll hear many professional photographers talking about 3 different locations - work files, and two backups on different physical locations - with which I would totally agree: my third backup is my main computer's Time Machine backup. Seems a bit too much? Well, you have too know that the thing with the hard disks is not the question are they going to die on you eventually, but it's just when. So being prepared for a hard disk failure is just wise and a great time saver (which I also recently experienced, but that's a different story - I'll just say that everything went well, thanks to the Time Machine restore).
Said that, I think this was one of the rare times I didn't follow my usual procedure, for two main reasons. Firstly, it's my new camera. Nikon D800 is a brilliant camera, but makes ridiculously huge files (which you would expect from 36.3MP sensor) so one needs more and bigger memory cards which are relatively inexpensive, but then again since I'm shooting live action, I need quickest PRO cards I can get, and they're not that cheap. Secondly, it was at the end of my second day at the Bažant Pohoda festival and I was copying the images at 3 AM in my car (luxury apartment of a festival rockstar photographer, yep!) and I obviously made a mistake. I thought I copied 3 cards to my laptop, but in fact I copied just 2. Which I realised just when I got home, after the third day of the festival. Oh yeah, I did the backups from the laptop files, and not the cards for the sake of speed and laptop battery - something that I don't usually do - so you imagine correctly that the "card2" folder was empty on the backups as well.
*?!*%&, where are my photos?!
The main thing as you discover this, is to keep calm. It is a potentially really shitty situation (depending on the importance of the photos you erased, of course, and the understanding of the client), but there's no use in panicking and making things worst. Well, not yet. Needless to say, I was shocked when I discovered this mistake - it would mean, that half of the festivals day 2 photos are lost! Fortunately, I was a bit tired (3 days of shooting summer festival and driving 450 kilometres home can do this to you), so I did not panic or overreact. My only hope was that I didn't use that particular card on the third day, which, by pure chance of luck, was just the case!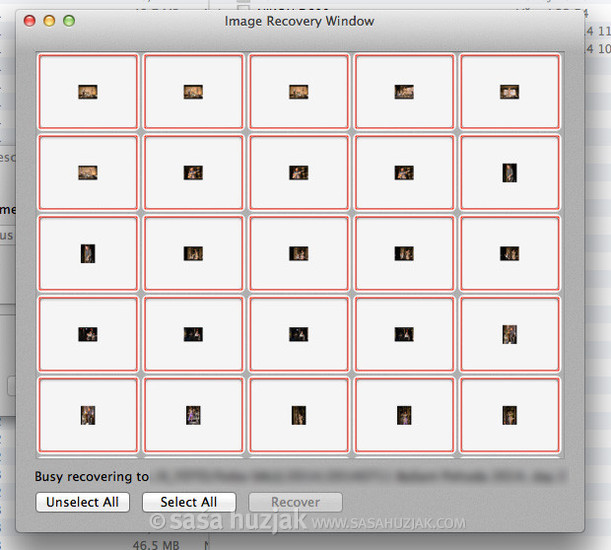 Image Rescue 4 in action: found files on a formatted CF memory card
The second thing is to stop shooting on this card (in my case, I couldn't do much about it - I formatted it when I thought I copied the images on my laptop and was preparing it for the next day of shooting) - get it out of your camera, and don't write anything on it. This is because of the way memory cards work (doesn't matter if it's SD, CF, XD card, memory stick or a hard disk, actually), which I'll try to explain simple as possible (I'm not a techno geek, so this may not be 100% technically accurate, but the idea behind it is). Memory consists of two parts: parts for the actual data (e.g. images) and index part (think of it as address book), which has information which data is saved on particular location (think of it as a street address). So, when you erase the image (or any other file), camera usually doesn't erase it from the card, but puts a mark in the index part that this space can be used for new data. That is why, if you don't shoot on that card, there is a good chance that all the images will still be there, you "just" have to rebuild the index part of the card.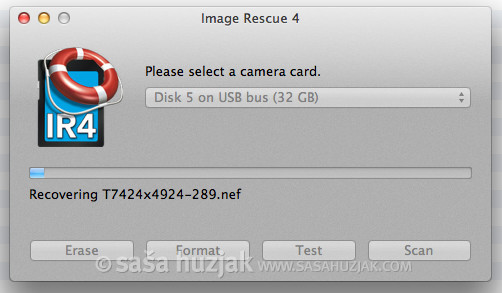 Recovering the files
For that, you'll need a specialised card recovery software. There are few free and paid options out there (just Google it for some suggestions), but the good news is that if you own one of SanDisk's, Lexar's or Transcend's professional line memory card (maybe even cheaper ones have it, not sure about that), you have a free download of their software.
This is not a test
I have to emphasise that this is not a test of this software tools (Computerworld mag did a comparison between six of them some time ago and Black+White Photography magazine had a test in their recent July 2014 issue), but, for no particular reason, I went with Lexar's Image Rescue 4 and was very satisfied with the results: everything went smoothy, although a bit slow. I imagine this is a process that takes some time, depending on your number of images on your memory card, speed of your card reader and your computer, but maybe other tools do it faster - in any case, if you have a lot of photos on the card to recover and don't have a tight deadline, my suggestion would be to leave it working over the night and go the bed. Just check if you got all of the files in the end, or some files were corrupted (mind you, different software gives different results!).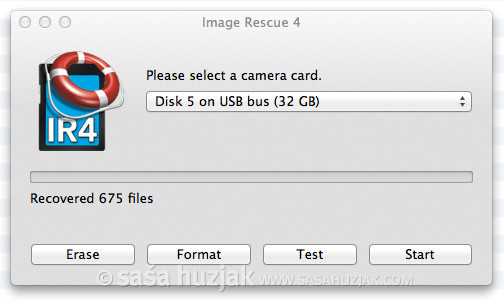 All files from the formatted CF memory card successfully restored - happy days!
The whole process is pretty straightforward - you insert your card in the card reader, start the recovery software and follow the instructions. The software will then try to access the real data on the card and when it does, it will offer you the option to restore this data (e.g. photographs) to a chosen folder on your computer (not on a card!). If everything goes well (which doesn't have to be the case, just to warn you), you'll have all of your deleted images restored - happy days! :)
Like I said, I was lucky that I didn't use that formatted card and I knew about photo recovery software, so I didn't loose any images this time. I'm sure you'll never need to use this because you know better than me to not format a card without copying it to the computer first, but if you find yourself in a similar situation, hope this short blogpost will help you! ;)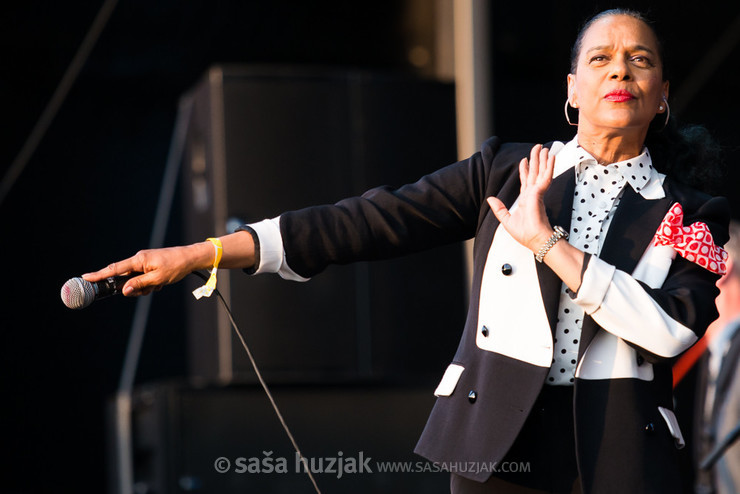 Another of the images that was restored from the card: Pauline Black (The Selecter) @ Bažant Pohoda festival, Trenčín (Slovakia), 10/07 > 12/07/2014
Note for the end
Internal and external hard drives work pretty similar to this, which is also good to know if you loose any data on them. And a bit of a warning here - if you plan to sell or give your memory card or a hard disk to someone else, as you now know, just by quick formatting it, you won't necessarily delete all the data written. If you have sensitive data written, you have to take some extra steps to make sure the data is not there any more.