UK's Practical Photography magazine features some of my festival photos
Monday, 21/03/2011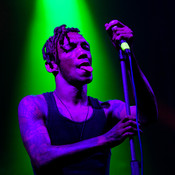 UK's Practical Photography magazine (April 2011) features two-page spread of some of my live festival photos Photo: © Practical Photography
Just after slovenian photo magazine Digitalna Kamera featured some of my concert photos, I'm happy to say that the story continues. Latest issue of UK's Practical Photography magazine (April 2011) features two-page spread of some of my live festival photos.
The photos include Tricky, Flaming Lips and Lada Furlan Zaborac from The Bambi Molesters (all taken at Croatian INmusic festival, 2009 and 2010) and Jarvis Cocker from Austrian FM4 Frequency festival 2009.
You can find more about the magazine @ www.photoanswers.co.uk.

The only problem was Tricky - the strong violet and green color cast on the photography seemed to be, well, tricky for the print, so the colors in the magazine turned out pretty bad. I changed that picture here so you could see how it should be in the ideal world - just click on the small thumbnail.