FM4 Frequency festival 2011
Green park, St. Pölten (Austria), 18/08 > 20/08/2011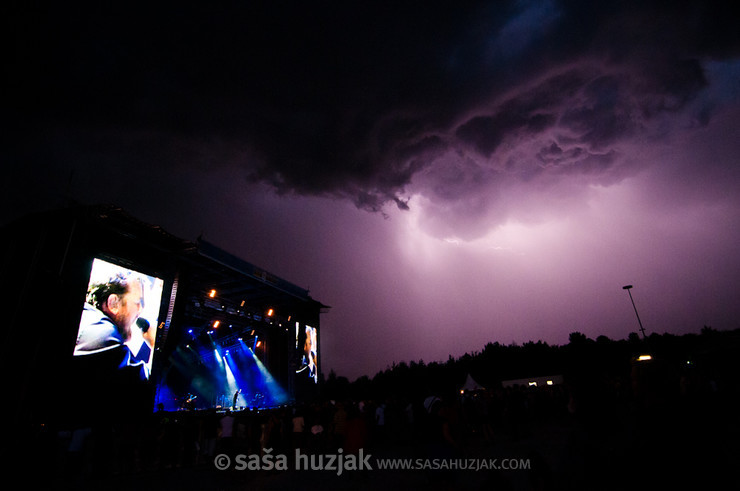 Black clouds came in 5 minutes over the Festival while Elbow were performing... @ FM4 Frequency festival 2011, Green park, St. Pölten (Austria), 18/08 > 20/08/2011
My third time as a photographer at FM4 Frequency festival was in a way most difficult one - the heat during the day was almost unbearable and there was no sea to jump into, as we had in Šibenik at Terraneo festival. Though, most of the bands were really cool (to photographs and to listen), with my personal festival highlights including Elbow (after the tragic event that happened at Pukkelpop festival in Belgium just a day before, we were all pretty worried when black clouds came so quickly over the whole festival, as seen in the photograph above), Friendly Fires, Crystal Fighters, Kasabian and Foo Fighters, to name a few. Also, besides the bands, I had a great opportunity to meet some great new people, including few concert photographers whose work I admire.
Sadly, Foo Fighters management allowed only 15 photographers from the biggest Austrian medias in the pit, so I'm still waiting my chance to shoot Dave Grohl and the guys.
Used gear (for photo geeks):
All photographs, unless otherwise stated, are the copyrighted property of Saša Huzjak. All rights reserved.
Must not be used without explicit permission.
If you would like to
license
any of my photographs to use either online or offline,
order a fine art print
of your favorite photograph or
hire me
to shoot your band or event
please contact me
.