Movie (p)review: Finding Vivian Maier
Monday, 16/03/2015
John Maloof, Charlie Siskel, 2013
Since we live in a global village, as we like to call it, where everybody and their cat are sharing something about themselves and leaving a huge digital footprint behind them, it seems almost unbelievable that just few decades ago, there were true artists of their medium who weren't recognised for their talent. In the case of a Detroit based musician Rodriguez (which was "discovered" in a brilliant documentary "Searching for Sugar Man"), I guess it was a lack of luck. But, with mysterious Vivian Maier it's a completely different story, because it seems she didn't really cared too much about being published.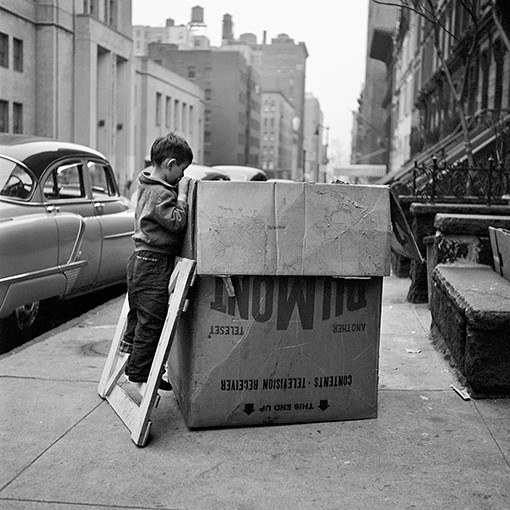 New York © Vivian Maier
Vivian Maier worked as a nanny for the most part of her long life, taking care for children in different families of whom some of them are interviewed in this movie. Most of them, however, didn't know that Vivian Maier was a great and passioned street photographer that took more than 150 000 photographs during her life. And how would they - Ms. Maier did actually develop only a small number of photographs and didn't show them to anybody!
Just around the time when Ms. Maier's life was coming to an end, three people bought her photo negatives and roles of undeveloped films at an auction, among whom was also John Maloof, one of the authors of this Oscar nominated documentary and one of three big players in the story of Vivian Maier's resurrection (so to speak).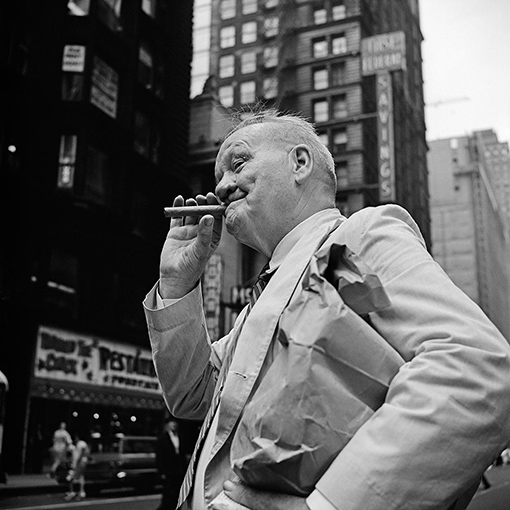 Chicago © Vivian Maier
Besides photographs and undeveloped films, John Maloof found a lot of personal stuff of Ms. Maier and also few film roles of mostly family movies and audio cassettes which show us that she actually had a great sense of humour. For one part of her life, at least, she wasn't just photographing with her medium-format Rolleiflex, she also interviewed people about politics and made pseudo documentaries in a reportage style, revealing also her dark side and fear of men (coming to that a bit later).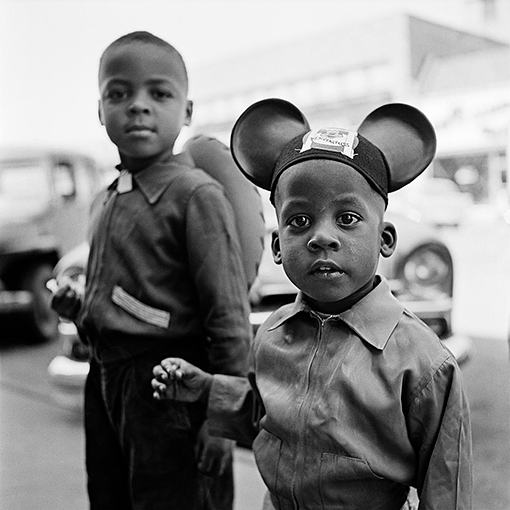 Chicago © Vivian Maier
Adding to the mystery was her French accent (she was born in New York, but her mother was French) that at least one person in the movie thought it was fake and her habit to sometimes not reveal her real name but give a phoney one. The tension is also raised with people in the movie telling completely different stories, e.g. some didn't know nothing about her photographing habits, while others always saw her with a camera around her neck, so a huge question mark about this mystery woman becomes even bigger over the viewers head. And then we find out that Ms. Maier took eight months trip around the world (where she also made some amazing photographs), so a question of her being a spy also pops out in the movie - but I'll stop here, I already said to much! :)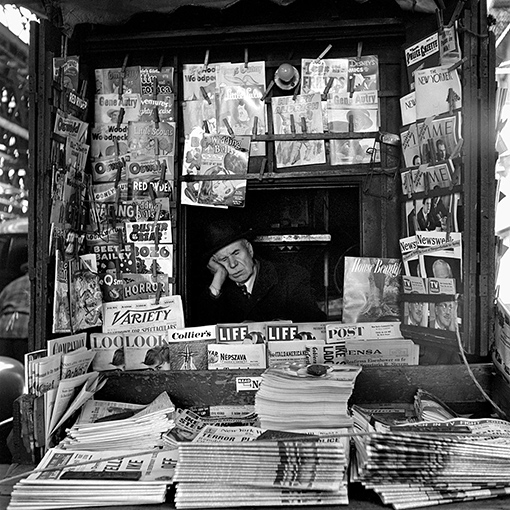 March 1954. New York, NY © Vivian Maier
I have to say that I'm mostly interested in the work of Vivian Maier which is, well, amazing (I am currently deciding which book to order)! I bet a lot of street photographers would give their left arm to have some of the photos Ms. Maier took in their portfolio, even if they tell you otherwise. You don't have to believe me - legendary street photographers Mary Ellen Mark and Joel Meyerowitz, who are also interviewed in this film (as well as in the "Everybody Street" movie that I wrote about last year) think so, too. Anyway, I'm saying this because second part of this documentary covers more Vivian Maier as a person, actually, being an eccentric, lonely, misunderstood and sometimes a problematic person, which for me, makes this second part less interesting (I think that could have been a theme for a completely different movie, maybe a sequel to this one). Of course, I am sorry for all those kids that had a tough time with Ms. Maier as their nanny, but in the end, the history is full with great artists that weren't really "people friendly" and I'm sorry that nobody in this movie cared to bring this up. You think Pablo Picasso had a nice personality or temper? Or Miles Davis for example? Just saying.
As I already wrote, Ms. Maier was very secretive about her photographs and almost all of the people in this documentary that were asked this question, said something in the lines that she wouldn't be happy at all with the popularity she gained. Then again, if Max Brod, Franz Kafka's friend and later biographer, would follow writer's instructions to burn his work after his death, we would never be able to read "The Trial", "The Casle" or some of his other works and the one of the "most influential authors of the 20th century" that influenced the works of great names like Albert Camus, Gabriel García Márquez or Jean-Paul Sartre, would be completely unknown to us. Just saying.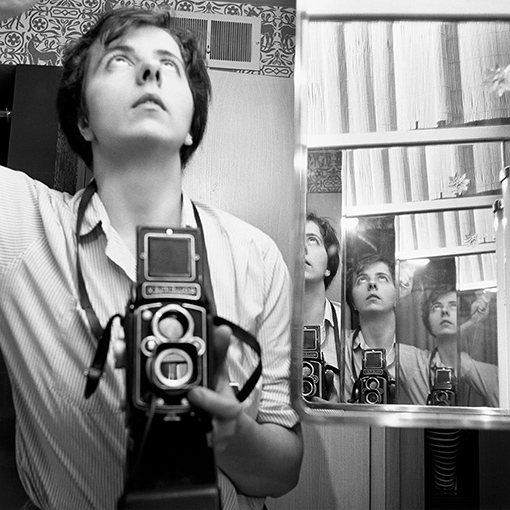 Self-Portrait, 1956 © Vivian Maier
I'll just add that I don't think highly of ubiquitous selfies, but many of self portraits that Vivian Maier took are just amazing piece of art and could see, actually - would love to see! - many of them hanging on my wall. Well, just saying. :)
All in all, if you haven't already heard about Vivian Maier, this movie is a really good start. You can also check more of her great work at the www.vivianmaier.com and Artsy's Vivian Maier website.
Finding Vivian Maier - official US trailer
Product info
Finding Vivian Maier
Directed by: John Maloof, Charlie Siskel
Starring: John Maloof, Daniel Arnaud, Simon Amédé, Maren Baylaender, Eula Biss, Mary Ellen Mark, Joel Meyerowitz
Cinematography by: John Maloof
Editing by: Aaron Wickenden
Music by: J. Ralph
Official website: www.findingvivianmaier.com
Get your copy at: