On the movie set of The Constitution (Ustav Republike Hrvatske), new movie by legendary Croatian director Rajko Grlić
Friday, 26/02/2016
Or how is to be working as a movie still photographer
With the official website for the movie "The Constitution" ("Ustav Republike Hrvatske" is the original title in Croatian) being published few days ago, I can finally stop being secret about it and proudly say it out loud: in the autumn of the last year, I was working as a still photographer on a movie set by legendary Croatian director Rajko Grlić! :)
As a note of warning, this blogpost contains high quantity of personal thoughts, aspirations & emotions, not really connected to the photography per se, but more to the life in general. If you don't mind, do read on, please!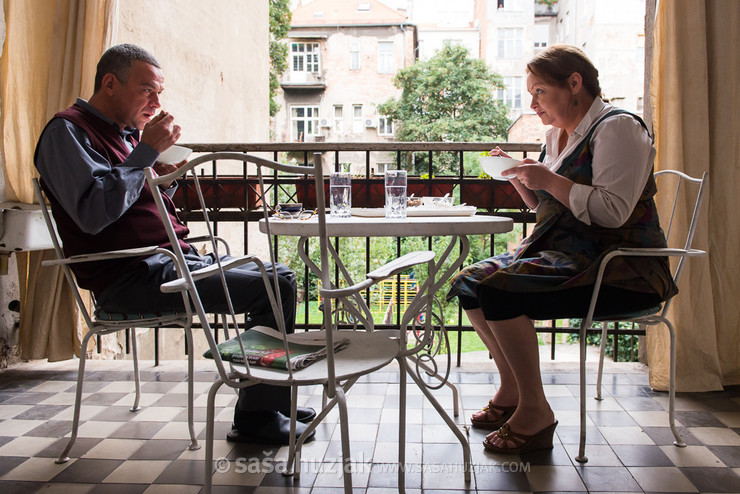 Nebojša Glogovac and Ksenija Marinković (movie still)
Chapter 1: A short introduction
To all my foreign readers who don't know who Rajko Grlić is, I'll just say that he is one of ex Yugoslavia most famous movie directors and the member of the so called "Prague wave" or "Czech film school" - "Yugoslav film directors who rose to prominence in the 1970s, after graduating from the Film and TV School of the Academy of Performing Arts in Prague (FAMU)" (quote from Wikipedia) which included Lordan Zafranović, Srđan Karanović, Goran Marković, Goran Paskaljević, and Rajko Grlić. Mr. Grlić's films "were shown in cinemas across all five continents, they were included in competition programmes of leading world festivals, including Cannes, and they have received numerous international awards". "The Constitution" is his feature film number 12, six years after another Zagreb based story in the movie "Just Between Us" ("Neka ostane među nama", in Croatian) that was the most viewed Croatian film that year.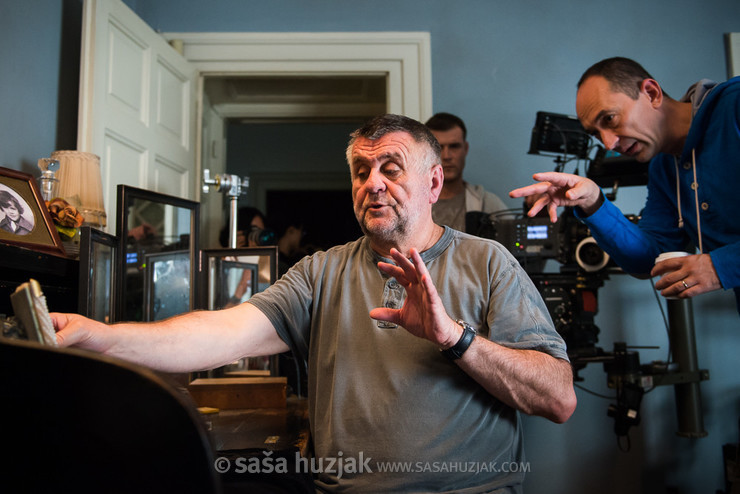 Director Rajko Grlić and DoP Branko Linta planning the next scene (behind the scenes)
And the basic plot of the new movie, written by Ante Tomić (another Croatian legend, whose weekly humorous columns are a great mirror of our society) & Rajko Grlić is a really interesting one:
Four very different people live in the same building but avoid each other because of differences in how they live their lives, what they believe in, and where they come from. They would probably never exchange a word, but misfortune pushes them towards each other. Their lives entangle in ways that profoundly challenge deep-held beliefs and prejudices surrounding material status, sexual orientation, nationality and religion.

Slowly, and even painfully, they begin to open up to each other and recognize the essential humanity each of them possesses.
Chapter 2: A little bit of personal history (goes a long way)
You have to understand that I have been a big movie freak since far I can remember. And I'm not talking about popcorn Hollywood "special effects" production we have for the last few decades - I'm talking real movies, real stories and real characters. I guess this is something that I got from my late father, who was also a big movie fan himself - I remember his video tapes (remember those?) methodically arranged and labeled, with movies of different genres. And then when video rentals came to our little town back in the days, the joy in our family was enormous! :)
Finishing my high school, I briefly taught about studying movies at the Academy in Zagreb, but knowing that they take only few people per year for every course, it didn't feel like I will be one of them and I was not in position to wait few years until I get in. I'm not sad or angry about it, don't get me wrong, it's just the way life goes sometimes. So, I went on studying another thing that I was interested in - computers (it will come in handy later in the story, just bear with me).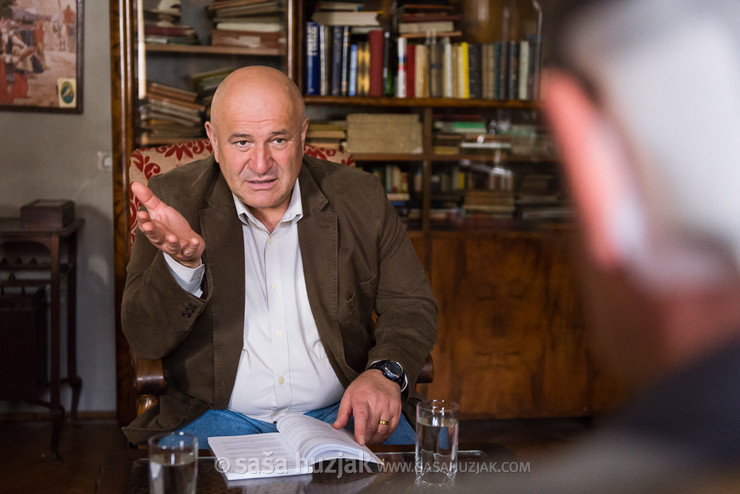 Dejan Aćimović and Nebojša Glogovac (movie still)
Fast forward few years and I'm volunteering at Motovun Film Festival, alternative movie festival much needed in Croatia back then. The festival was started by Rajko Grlić and Igor Mirković who wanted to show movies from all around the world that we were not able to see in the cinemas in Croatia, because of political atmosphere in the country and Hollywood oriented cinema owners. As the festival grew bigger with every year, threatening to break city walls of this beautiful small Istrian town, this proved to be a much needed thing to do. Many of us who visited the festival or volunteered there are now connected with the film industry in one way or another. For example, there have been and still are numerous small film festivals all around Croatia and many, if not most, are started by, as Mr. Grlić fondly calls them, "Motovun kids".
I did not start a festival, but I did get to know Mr. Grlić at the Motovun and soon after became his "web guy" (this is where studying computers falls into the story, I told you it will all make sense), doing few websites for him and his projects in this last decade. With the preparations for his new movie, I also offered my services as a movie set photographer and since he knew my photography work from before, he decided that I was up to the task and said yes. Oh, what a joy! :)
Chapter 3: Working on a movie set or how to be like a fly on the wall
The main role of the movie still photographer is twofold - to capture images that look like that have been taken from the movie ("movie stills") and to capture images that reflect working atmosphere on the set ("behind the scenes"). This is the basic work, but there could be some extra work like taking portraits of the main characters and making staged images that could potentially end up as the poster for the film. And in doing so, the photographer has to be invisible and unobtrusive as possible. Which can be pretty challenging when the filming takes place in a small apartment, full of movie crew.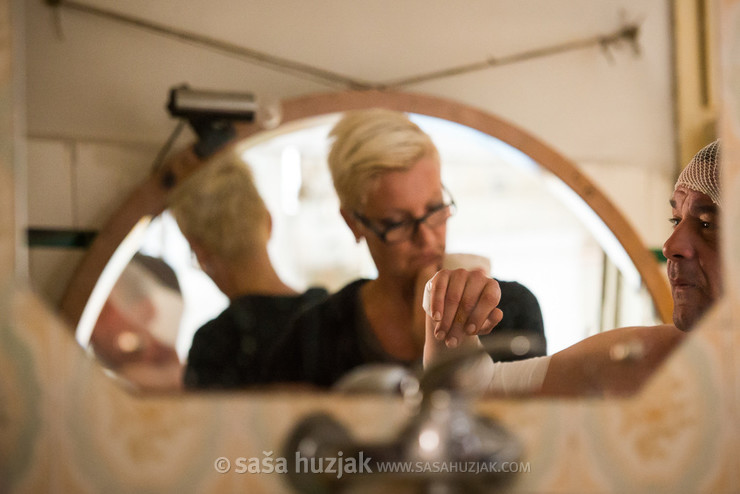 Nebojša Glogovac, preparing for the scene (behind the scenes)
Mr. Grlić actually warned me before, with a smile on his face, that nobody will like having me around - they all have their job to do, which is often time quite stressful, and a photographer jumping all over the place is the last thing they need. Or want. But, I have to admit I was pretty lucky because it didn't felt that way at all, with all of them being really professional and friendly with me, from the movie crew to the main actors - regional stars Nebojša Glogovac, Dejan Aćimović and Ksenija Marinković are the cast of this urban comedy / drama.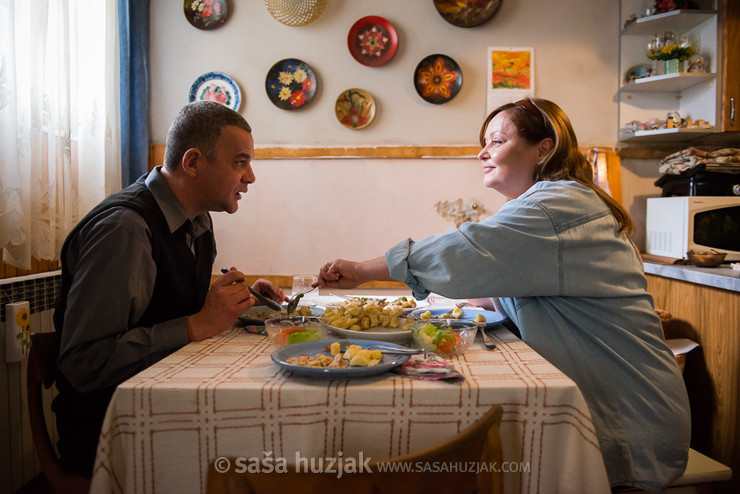 Nebojša Glogovac and Ksenija Marinković (movie still)
So working on a movie set as a photographer is quite exciting, but also quite exhausting. Excitement comes from being around such creative people and learning a lot about the movie making process, mainly, for example, Director of Photography (DoP) was Branko Linta, whose work (especially with another great Croatian director Dalibor Matanić) I have admired for years now. On the other hand, exhaustment comes from long working hours and a lot of waiting. Actually, in that sense, it reminded me a lot on music festivals - waiting, shooting bands for 3 songs (we're usually not allowed more than that in front of the stage, mind you), then running to some other stage, waiting, doing it again and so on. The main difference is that here there are no other stages and you don't have 10-15 minutes for shooting, usually much much less.
Chapter 4: End credits
To cut this long story short, just to be on a movie set and see all the film making magic happening in front of my eyes, was an indescribable experience (immediately with the next movie I watched, I started to look at things differently, thinking how did they filmed this or that scene). To be a part of the team making the movie (and what a team it was!), albeit a small and not really important part when the film is being made, was something I could only dream of. :)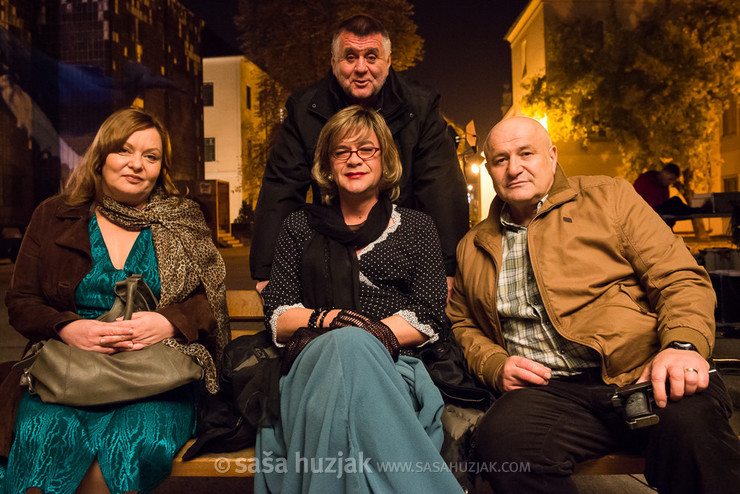 Director Rajko Grlić with the cast: Ksenija Marinković, Nebojša Glogovac and Dejan Aćimović (behind the scenes)
Given this complex and often sad times we live in, full of unexplainable hatred and lack of care for fellow humans, I do think story like this movie has, especially in this region where hatred is so deeply rooted, is an important one, probably more than ever. And to be a part of the team who tries to tell it, even as a small wheel in this big movie making machine, is just an amazing feeling, for which I'm deeply grateful!

To find out more about the movie and see more photographs, please visit the movie's official website.