Movie (p)review - Ride, Rise, Roar
Tuesday, 30/04/2013
Hillman Curtis, 2010
Remember "Stop Making Sense"? It maybe be one of the greatest concert movies ever, in which the director Jonathan Demme showed what a genius on stage David Byrne really is. Remember the big suit?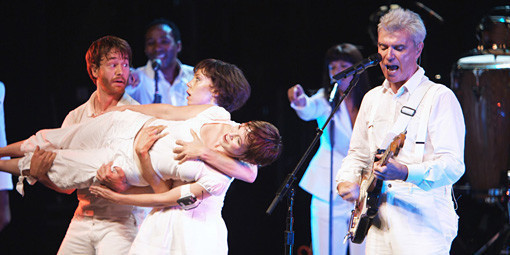 Ride, Rise, Roar - scene from the movie
Fast forward 24 years and we have two musical legends, David Byrne and Brian Eno, working on a new album "Everything That Happens Will Happen Today". Byrne got an offer for some live shows later that year, so this legendary musician, event organizer and publisher, and once a lead vocalist of his former band Talking Heads, decides to do a tour but a bit differently. Called "The Songs of David Byrne and Brian Eno", this tour didn't include Eno (this was their first collaboration since 1981), but it did incorporate some moderns dancers and interesting choreographers. But it wasn't just dancers, David and the backup singers also got dancing roles in the show!
"The fact that they decided to combine modern dance with a rock show was risky, it could have backfired quite easily. But it fits with David, since he is involved in many forms of art. They managed to pull it off through trust in collaboration."

Hillman Curtis, movie director
"Ride, Rise, Roar" is a film that shows us how it all looked like, onstage and ideas behind this cool production (some just brilliant things there, e.g. rules at the dancers audition: think of some short moves, repeat them; if the dancer besides you has stronger moves, copy his; the practice stops when all the dancers in the room are doing same moves). In that sense, I really liked the mixed live footage from the tour with black & white behind the scenes material, because live concert movies tend to get a bit boring after some time, especially if not done right. Luckily, this one nailed it with the aforementioned mix!
For all fans of David Byrne, Talking Heads and the ones that like the good mix of modern dance with pop music - I know I really enjoyed it! I have to say that given the fact that my two biggest photographic interests at the moment are live music and contemporary dance, this show would be a total blast to shoot! :)

Ride, Rise, Roar - official trailer
PS: The film was a first feature long movie for Hillman Curtis, who directed few short movies before that. Sadly, this New York movie maker passed away last year, age 51.

Product info
Ride, Rise, Roar
Directed by: Hillman Curtis
Starring: David Byrne, Lily Baldwin, Layla Childs, Mark De Gli Antoni, Graham Hawthorne, Kaissa, Brian Eno
Cinematography by: Ben Wolf
Editing by: Matt Boyd
Get your copy at: