Movie (p)review - Searching for Sugar Man
Tuesday, 02/04/2013
Malik Bendjelloul, 2012
There was a young musician living and working in Detroit in the late 1960s and early 1970s by the name of Rodriguez. Often compared to Bob Dylan, he released only two albums which didn't have any success in the USA, despite of his obvious talent and great lyrics. However, on the other side of the world, in South African Republic, his music got really, really big, especially with opponents of apartheid. Since there was a bit of information blockade between that country and the rest of the world (violent government and constant human rights violations), young people didn't now much about this guy Rodriguez. Of course, this contributed to many urban myths concerning his life and death. Many years after, two South Africans started a personal investigation, with the goal to find out what really happened to the author of the "Sugar Man".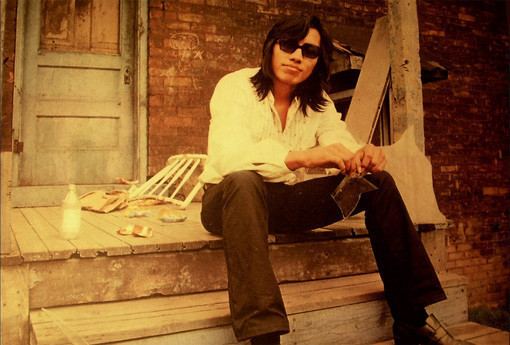 One of the rare photos of Rodriguez from his early years
I have to say that I was really happy that I didn't know anything more about the film, or Rodriguez for that matter, before watching the film, except for what I have written above. Happy because the movie reveals the story in layers, like some crime drama where you learn things along with the main detective. That is way I won't tell you anything more about it, and won't include the trailer of the movie as usual, 'cause it may reveal a little bit too much for you.
What I will tell you though, is that I've found the movie to be absolutely brilliant, with a really unbelievable story. These days, when the papers and TV are full of bad news concerning wars, hunger, corruptions and human greed, it's a real miracle to find a story and a movie like this. I also loved the way it has been made movie-wise - great directing, editing and filming.
For this story to be even more unbelievable, this winner of the Academy Award Oscar for Best Documentary this year (among many other international awards and nominations this film got), was written, directed and edited by a Malik Bendjelloul. This 35year old Swedish has produced several musical documentaries for Swedish Television (SVT) and is a former child actor, and this is his first feature movie.
One of my personal favorites for the best movie in the 2013, and one of the best music documentaries ever. Seeing this kind of story makes you believe in the human kind once again.

Instead of the trailer who may reveal a little bit too much, one of Rodriguez's most famous songs: Sugar Man
Product info
Searching for Sugar Man
Directed by: Malik Bendjelloul
Written by: Malik Bendjelloul
Starring: Stephen 'Sugar' Segerman, Dennis Coffey, Mike Theodore, Steve Rowland, Craig Bartholomew Strydom, Eva Rodriguez
Cinematography by: Camilla Skagerström
Editing by: Malik Bendjelloul
Get your copy at: