Movie (p)review: Rock Prophecies
Friday, 17/02/2012
John Chester, 2009
Some people collect stamps, some people collect butterflies, I think I kinda collect rockstars!

Robert M. Knight
There are a lot of documentaries about different rock bands out there, but there are not so many movies about the photographers that help the bands to get to that r'n'r pantheon. Well, say hello to "Rock Prophecies", the story of Robert M. Knight, legendary rock photographer who not just helps the bands get their visual look, but he really does much more for the young musicians.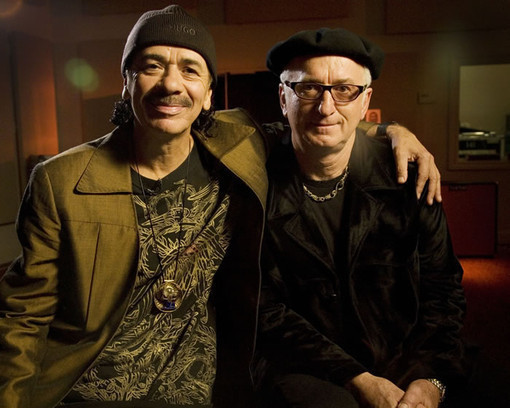 Santana and Robert M. Knight © Maryanne Bilham
The film tells the story of Robert M. Knight, an American rock photographer known for being one of the first photographers to capture Jimi Hendrix and Led Zeppelin, and the last to photograph Stevie Ray Vaughan. After Stevie's sudden death, he released this images of his last show few years after the accident, not wanting to profit on his friend's death. He photographed numerous stars like Elton John, The Rolling Stones, Jeff Beck, Slash, Steve Vai, Carlos Santana, ZZ Top, B.B. King, Eric Clapton, Aerosmith and Def Leppard, to name just a few.
You won't find advices on technique or equipment to use, but you have a chance to learn something even more valuable from the rich experience of Robert M. Knight - business ethics, trust and friendship. Inspirational interviews with Santana, Jeff Beck and Steve Vai are a must for all creative people out there, plus, it seems like Robert is a genuine super cool guy, which also really helps. Add the interview with a legendary rock photographer Jim Marshall, and you got yourself a small piece of rock'n'roll history, with a few funny anecdotes and some touching moments as a cream on top.
Being 40 years in the business, Robert, who has a genuine passion for music and musicians, knows a lot of influential people, from artists to producers, and he uses these friends to help talented young artists he believes in. In the movie, we can see him helping Australian band Sick Puppies to become big in America and a then-16-year-old blues prodigy Tyler Dow Bryant to get his first endorsement and a record deal - you really don't see many of photographers doing that!
DVD contains few special features, like movie trailer, alternate ending, deleted scenes and a Sick Puppies "Free Hugs" video.
To find out more about Robert M. Knight and his work be sure to visit his website plus check out this cool interview with him.

Rock Prophecies, official trailer
Product info
Rock Prophecies
Directed by: John Chester
Starring: Robert M. Knight, Jeff Beck, Slash, Steve Vai, Carlos Santana, ZZ Top, Def Leppard, Kenny Wayne Shepherd, Joe Bonamassa, Steve Lukather, Jason Bonham, Panic! at the Disco, Sick Puppies, Tyler Dow Bryant
Cinematography by: John Chester
Editing by: John Chester & Amy Wilson
Official website: www.rockprophecies.com
Get your copy at: