Movie (p)review: The Grand Budapest Hotel
Thursday, 11/09/2014
Wes Anderson, 2014
All of the movies I wrote about on this blog so far (check the related posts bellow this one), have been either about photography / photographers, or about music artist(s), or about both (see Rock Prophecies). Being a music photographer myself (most of the time, that is), this makes perfect sense.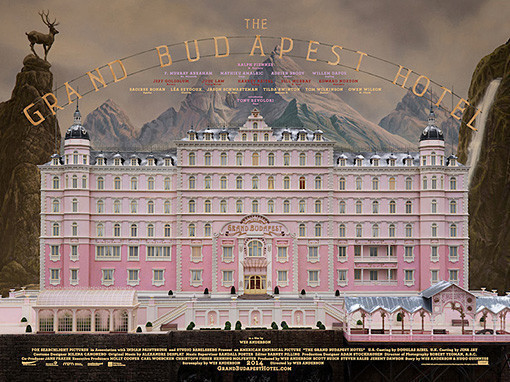 The Grand Budapest Hotel - movie poster
However, I was recently blown away by a great movie of a legendary director (if you haven't heard of Wes Anderson and his stunning movies, I urge you to check them out). Small word of warning though: his movies are distinct, special and unusual - well, unusual by mainstream standards, that is, though he did made a strong mark with his movies by now and got some followers and style "copycats" in the movie and photography world. Visual style of and in his movies is VERY important and "The Grand Budapest Hotel" is no exception. That is why I believe this movie is interesting for photographers and cinematographers worldwide.
The story of the movie is simple (as stated on imdb.com): "The adventures of Gustave H, a legendary concierge at a famous hotel from the fictional Republic of Zubrowka between the first and second World Wars, and Zero Moustafa, the lobby boy who becomes his most trusted friend.", but the execution is just marvellous. Let us put a marvellous cast with names like Ralph Fiennes, Adrien Brody, Willem Dafoe, Jeff Goldblum, Harvey Keitel, Jude Law, Bill Murray, Edward Norton, Tom Wilkinson and Tilda Swinton aside for a moment, and concentrate on another (hidden) jewell besides Wes Anderson: Robert Yeoman.
Namely, Robert D. Yeoman is the director of photography at "The Grand Budapest Hotel". Actually, this 1951. born American cinematographer worked on every live action film by Wes Anderson, from "Bottle Rocket", "Rushmore" and "The Royal Tenenbaums", to "The Darjeeling Limited" and "Moonrise Kingdom". I just love when you have a great team that you don't change with every project, and Yeoman is by far not the only one who's been with Anderson for so long.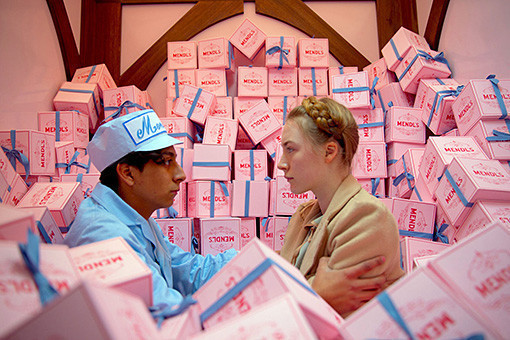 The Grand Budapest Hotel - scene from the movie
One could write a longish essay about the photography and camera in the movie, or in all of his movies (as some have), as for that matter, analysing composition, framing, movement and effects, but I won't. I let you discover this magical world by yourself - think of this blogpost as a teaser! :) I will tell you though, that I watched it two times in the past few days, and extremely enjoyed it!
A visual masterpiece. Truly.
The Grand Budapest Hotel - official trailer
Product info
The Grand Budapest Hotel
Directed by: Wes Anderson
Starring: Ralph Fiennes, F. Murray Abraham, Adrien Brody, Willem Dafoe, Jeff Goldblum, Harvey Keitel, Jude Law, Bill Murray, Edward Norton, Tilda Swinton
Cinematography by: Robert D. Yeoman
Editing by: Barney Pilling
Official website: www.grandbudapesthotel.com
Get your copy at: