Dancers in studio photo shoot: Edita Čerče (49,90 project)
Wednesday, 23/11/2022
2023 calendar photoshoot
Edita Čerče, one of the best known oriental dancers in Maribor and around, is soon turning 50. When it comes to ladies, years are not something that you talk about publicly, but Edita is (and I mean that in the best possible way), not your ordinary girl.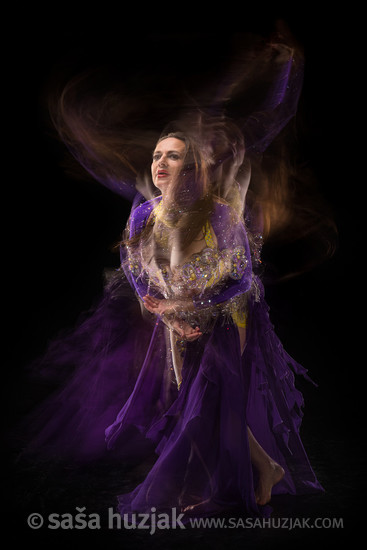 Dancers in studio photo shoot: Edita Čerče (49,90 project)
So she decided to mark this anniversary with a calendar and when she came to me with the idea of a photoshoot for a calendar, I immediately knew I wanted to do something a bit different. I decided that I wanted to show the movement of the oriental dance with longer exposure, but also freeze and show the beauty of her and her amazing costumes. I've darkened my photo studio to a pitch dark and the experiments could start :)
In the end, both of us were very, very satisfied with the photographs and with the printed calendar, not to mention the whole process (it was surely one of the longest, but also a photoshoot filled with many, many loud laughs that I had in years!).
If you like what you see, you can order your copy of "49,90" calendar (clever name by Edita) for 15,00 EUR at trancedance.si@gmail.com ;)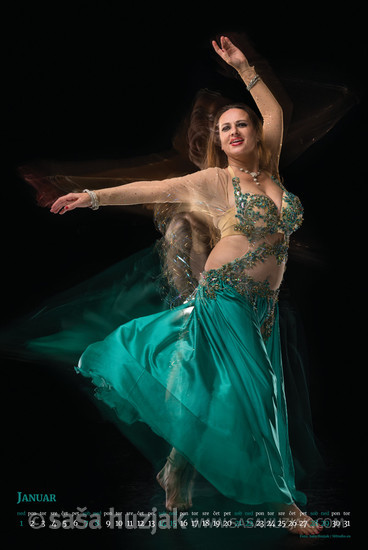 Edita Čerče "49,90", oriental dance calendar - January 2023
PS: This is the second calendar I did so far, and funny enough, both calendars were of dancers - first one was of Mojca with pole dance in 2021, now Edita with oriental dance in 2022. I am already courious to see what will the 2023 bring :)