Tadej Vesenjak has a new album
Wednesday, 08/10/2014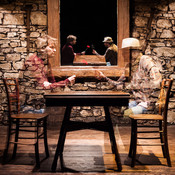 Tadej Vesenjak Photo: © Saša Huzjak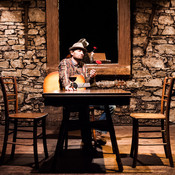 Tadej Vesenjak Photo: © Saša Huzjak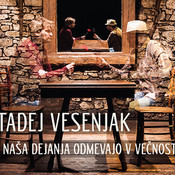 Tadej Vesenjak: Naša dejanja odmevajo v večnost, CD cover (design by Boris Volarič) Photo: © Saša Huzjak / design by Boris Volarič
Tadej Vesenjak has a new album called "Naša dejanja odmevajo v večnost" (Our actions resonate to eternity - roughly translated), and I'm very happy to be a part of it as a photographer! :)
Tadej Vesenjak is a great singer songwriter from a region of Slovenia called Prlekija and he writes brilliant songs about life, love and (social) changes all around us. Besides the great lyrics and accompanying music, the fact which really blows my mind is that he doesn't sing in English (English is pretty common with young bands in the region), not even in Slovenian - he sings in his strong dialect (for which he has my deepest respect), making his music and his performances even more unique.
I had the pleasure to shoot few times now (see related galleries below) and was very happy when we invited me to collaborate on his new record as a photographer - he had a vision of the way it should look, and I'm glad that I could help him to realise that vision.
Have to mention, though, that I'm not the only one in my family who participated in making of this CD - my wife Špela, a professional violinist, played on two tracks on the album, too, making this a real family project!
A beginning of a beautiful friendship? I'm pretty sure it is... :)
PS: You can get your copy of this CD at Založba Pivec website.