Bažant Pohoda festival 2013, part 2
Bažant Pohoda festival, Trenčín (Slovakia), 11/07 > 13/07/2013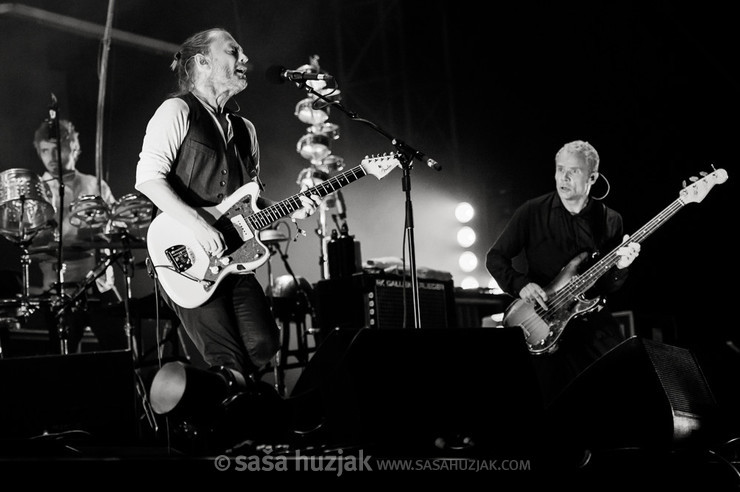 Thom Yorke and Flea (Atoms For Peace) @ Bažant Pohoda festival, Trenčín (Slovakia), 11/07 > 13/07/2013
Second part of this years Bažant Pohoda 2013 gallery (check out Bažant Pohoda 2013 gallery, part 1 here) includes brilliant Atoms For Peace, supergroup consisting of Radiohead lead singer Thom Yorke (vocals, guitar, and piano), Red Hot Chili Peppers bassist Flea, longtime Radiohead producer Nigel Godrich (keyboards, synths, guitars), Joey Waronker of Beck & R.E.M. (drums) and Brazilian instrumentalist Mauro Refosco (percussion) of Forro in the Dark, great new band Django Django, always great Bonobo and many many more!
The report (in Croatian) from this years festival can be found at terapija.net magazine.
To see images from the Nick Cave & The Bad Seeds performance at Bažant Pohoda 2013, please visit terapija.net article - due to the contract every photographer had to sign in order to shoot them for the first song, I can only publish them there.
Looking for more? Check out Bažant Pohoda 2013 gallery, part 1!
Used gear (for photo geeks):
Lowepro Lens Case 3
Lowepro Lens Case 1W
All photographs, unless otherwise stated, are the copyrighted property of Saša Huzjak. All rights reserved.
Must not be used without explicit permission.
If you would like to
license
any of my photographs to use either online or offline,
order a fine art print
of your favorite photograph or
hire me
to shoot your band or event
please contact me
.