Fest Jazza Koprivnica 2022
Fest Jazza, Koprivnica (Croatia), 08/07 > 09/07/2022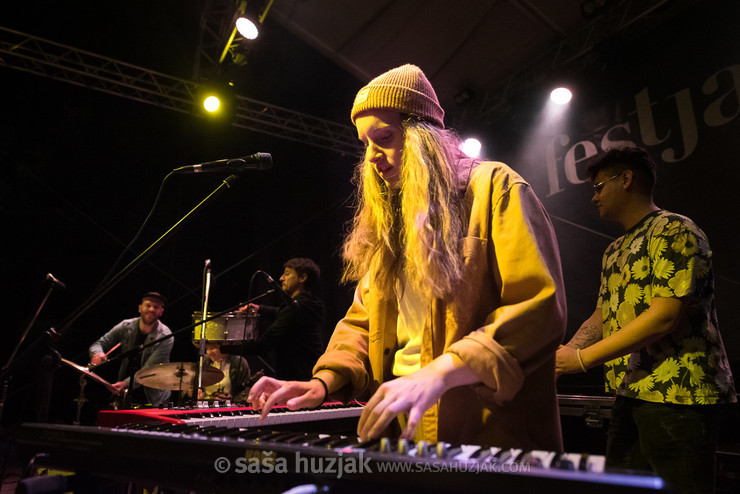 Sara Ester Gredelj (Freekind.) with guests on stage @ Fest Jazza, Koprivnica (Croatia), 08/07 > 09/07/2022
My second year as the official photographer for this great summer jazz festival which brought some delicious moments and discoveries!
With the Main square in Koprivnica being completely renovated (usual venue for the Festival), organisers had to move the stage of this free open air festival to a street nearby. That meant a bit smaller stage and smaller space for audience but the great lineup this year made all this not really important.
My personal favourites from this year, if I had to pick two from each night, included few bands or should I say amazing moments. B's FUNstallation is a really cool project by my old time friend Zvonimir Bajević Baja who made a specially great unplugged moment when the power went out near the end of their set. This positive energy then moved to the amazing jam session - I've seen quite of few of them in my life, but this was maybe the first where musicians where eager to go on stage and were waiting in line to do so! Even my wife, Špela Huzjak, who hasn't really played jazz last few years, borrowed a violin and joined - hashtag: #veryproudperson :)
Second night gave us groovy Gaetano Partipilo & Boom Collective from Italy with their great show and after that came Freekind., Slovenian-Croatian duo that my wife loves very much but I haven't seen them playing live till then. Well, show they did was just great with the encore including audience dancing and other musicians joining on stage, not really something you see on jazz festival! Hashtag: #simplyamazing :)
Excellent atmosphere and music, looking forward already to the 9th Fest Jazza in 2023!
Used gear (for photo geeks):
All photographs, unless otherwise stated, are the copyrighted property of Saša Huzjak. All rights reserved.
Must not be used without explicit permission.
If you would like to
license
any of my photographs to use either online or offline,
order a fine art print
of your favorite photograph or
hire me
to shoot your band or event
please contact me
.