Sainkho Namtchylak & Ned Rothenberg
Narodni dom Maribor, Mali oder, Maribor (Slovenia), 23/10/2014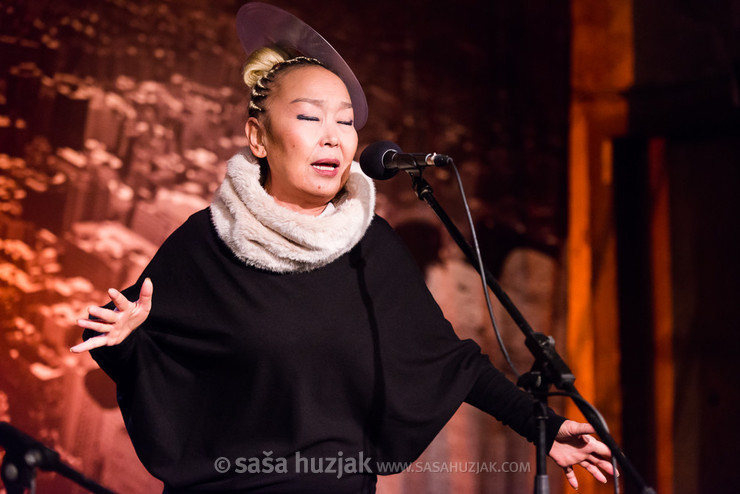 Sainkho Namtchylak (Sainkho Namtchylak & Ned Rothenberg duo) @ Narodni dom Maribor, Mali oder, Maribor (Slovenia), 23/10/2014
Amazing performance by recently reunited duo that performed over 70 concerts together in the early 1990s and released a CD called "Amulet" in 1996.
Sainkho Namtchylak is originally from Tuva, an autonomous republic in the Russian Federation, and she grew up in an isolated village on the Tuvan/Mongolian border, exposed to the local overtone singing which was reserved then, and still is today, for men. Known for her special mix of Tuvan throat-singing (also known as Khöömei) and avant-garde improvisation, plus seven-octave range, she is a musical artist one par excellance - think Björk and Yoko Ono, for example.
Ned Rothenberg composes and performs on saxophones, clarinets, flute and shakuhachi (an end blown Japanese bamboo flute), living and working in New York. The list of his current and past collaborators is impressive and, besides Sainkho Namtchylak, includes Evan Parker, Marc Ribot, Masahiko Sato, Samm Bennett, Kazu Uchihashi, Paul Dresher and John Zorn. Master of circular breathing and overtone control, he uses his horns "not only in a normal melodic role but also as rhythmic and harmonic engines in both solo and ensemble contexts", just like his biography states. And he does that amazingly!
Used gear (for photo geeks):
All photographs, unless otherwise stated, are the copyrighted property of Saša Huzjak. All rights reserved.
Must not be used without explicit permission.
If you would like to
license
any of my photographs to use either online or offline,
order a fine art print
of your favorite photograph or
hire me
to shoot your band or event
please contact me
.