Skejtaj s srcem (Skate with your heart) humanitarian project
Skejtaj s srcem, Dolga vas - Izola (Slovenia), 20/05 > 26/05/2013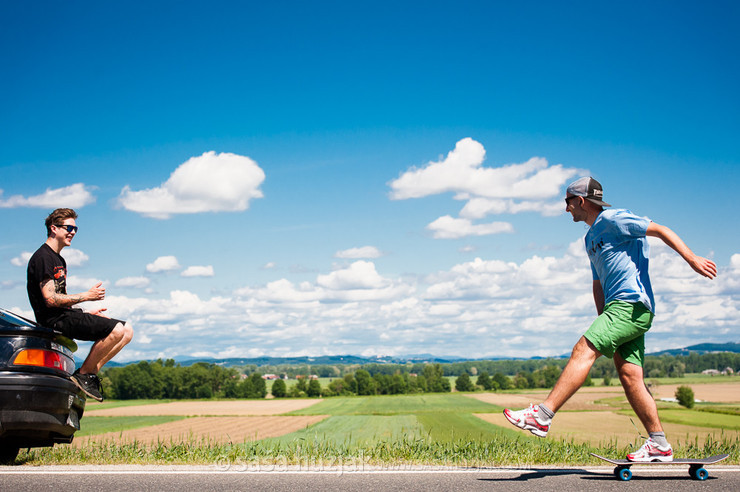 Skejtaj s srcem (Skate with your heart) humanitarian project @ Skejtaj s srcem, Dolga vas - Izola (Slovenia), 20/05 > 26/05/2013
Tomaž Praunseis is a buddy of mine. Tomaž is known for his creative video work (check it out at his website Jaganath produkcija), but he is also a well-known Slovenian skater. In short, Tomaž is a great guy with a big heart.
Some time ago he decided to skate diagonally through the whole Slovenia, from the border with Hungary to Slovenian coast, some 370 kilometers in total. He quickly realized that in doing so he could maybe be able to help some people so he connected with various humanitarian organizations in Slovenia to make this happen. They have chosen four families from the whole Slovenia that needed help in money and food and we started making this project come to life. This humanitarian project was supported by numerous organizations and individuals, including Punk Rock Holiday festival and Slovenian punk rock band Trash Candy, who played in every town where our caravan stopped for the night.
I was involved in the project for the last 6 months or so - I did the logo, the website, and some extra design stuff. I also did some promo photography before we went on the road, and I was with him and the support crew during the whole trip, documenting what was happening on the road. We started in Dolga vas on May 20th, and stopped in Murska Sobota, Maribor, Celje, Ljubljana, Postojna and Dekani, coming to Izola on May 26th. We had different people coming along with us from one town to another, including world known Slovenian freestyle skier Filip Flisar who traveled with us on the last part from Dekani to Izola with Tomaž and many others.
In the end, coming to Izola was not enough for Tomaž - after the final show, he decided to make another small trip, just him and his crew. He skated some 15 km more to the Croatian border, to make the whole trip more symbolic - from one border to the other.
I said it many times that I love to shoot live concerts and I just looove to shoot festivals, for numerous reasons. Well, this week, although technically speaking this was a classic road trip, was the best festival of them all!
We had an amazing time and helped the people in need while doing that - I think it can't get any better than that!
I feel honored to be a part of this great team and very proud that we've made a difference, in this day of age where the news are full of negative stories. This is an obvious example that one man can really make a difference!
PS: Although the road trip is finished, the project still goes on - skate that Tomaž used on the road is being auctioned at the moment (all the money will go to the families), and Filip Flisar was kind enough to give some of his clothes for the charity auction too. Check out the website for more info on that (only in Slovenian, sorry - contact me if you want to help and don't understand Slovenian).
Used gear (for photo geeks):
All photographs, unless otherwise stated, are the copyrighted property of Saša Huzjak. All rights reserved.
Must not be used without explicit permission.
If you would like to
license
any of my photographs to use either online or offline,
order a fine art print
of your favorite photograph or
hire me
to shoot your band or event
please contact me
.