Shanir Blumenkranz' Abraxas plays John Zorn
Narodni dom Maribor, Mali oder, Maribor (Slovenia), 08/02/2014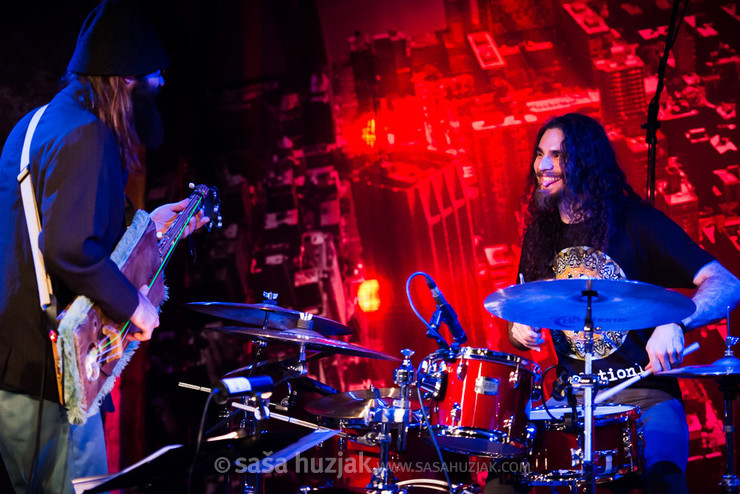 Shanir Blumenkranz' Abraxas plays John Zorn @ Narodni dom Maribor, Mali oder, Maribor (Slovenia), 08/02/2014
While I sadly missed the first concert in 2014 in the "Jazz in Narodni dom" (Jazz v Narodnem domu) series (was babysitting my son while my wife, professional violinist and a big fan of Iva Bittová, went to enjoy that one), I was sure I won't miss the second one - Abraxas, Shanir Blumenkranz's band consisting of seasoned international / NY musicians.
Abraxas are Shanir Blumenkranz on sintir (also known as Guembri, Gimbri or Hejhouj - "three stringed skin-covered bass plucked lute used by the Gnawa people" as Wikipedia states), with two guitarists - Aram Bajakian (saw him rocking with late Lou Reed in 2012, but he also performed/recorded with Diana Krall, Yusef Lateef, John Zorn, Marc Ribot, James Carter, Rufus and Martha Wainwright, Sean Lennon, and many more) and Eyal Maoz (Israeli-born American guitarist, bandleader, solo performer and composer) - and a drummer Kenny Grohowski (Lonnie Plaxico, Felix Pastorious, Secret chiefs 3).
They gave us a very interesting and a very loud night of John Zorn's music, who was described by Down Beat as "one of our most important composers". You can find much more about this legendary and very productive "avant-garde composer, arranger, producer, saxophonist and multi-instrumentalist with hundreds of album credits as performer, composer, and producer across a variety of genres including jazz, rock, hardcore, classical, surf, metal, klezmer, soundtrack, ambient and improvised music" at related Wikipedia article.
Used gear (for photo geeks):
All photographs, unless otherwise stated, are the copyrighted property of Saša Huzjak. All rights reserved.
Must not be used without explicit permission.
If you would like to
license
any of my photographs to use either online or offline,
order a fine art print
of your favorite photograph or
hire me
to shoot your band or event
please contact me
.