My hospital eye(s)
Monday, 06/05/2013
or How I learned to stop worrying about which lenses to put on my DSLR and started to love iPhoneography
Professional photographers using their smart phones is just a hype, I thought, but it all came to me sooner than I expected. Some 3 weeks ago I was diagnosed with the central serous retinopathy on my left eye and was hospitalised for 3 days (this is the main reason that I didn't shoot any concerts this month). But, I finally discovered smartphone photography!
The best camera is the one that's with you.

Chase Jarvis
It all happened very quickly. On a Saturday morning some 3 weeks ago, I woke up with a blurry vision in my left eye. First I thought it was just too much work on the computer in the last couple of weeks. Those who are self-employed, as most photographers and designers are, will relate to this easily, as it seems we work most of the time during the day, in one way or another. And usually in front of a screen. Or two.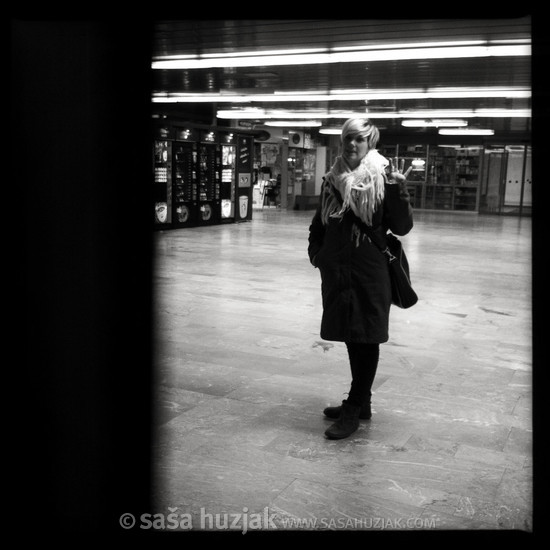 My wife Spela waving me goodbye, as the door of my elevator shuts
Coming home after a nice Easter weekend with my family, I went to see a doctor, since the eye situation wasn't improving a bit. Photographically speaking, my right eye felt like having a pin sharp f/1.8 fixed lens, while I had an out of focus lens baby with a slightly brown filter in front of my left eye. The doctor immediately sent me to an eye specialist, who ran some tests and told me to go to the hospital tomorrow morning at 8AM, for two or three days of various eye tests.
First it dawned on me that I wouldn't be able to finish the web project I had planned for that week, and would probably have to miss shooting two concerts the coming weekend. Immediately after that, came the second one: which camera/lens combo to bring to hospital? Funny, I know, but we photographers are known to be a bit, well, funny.
Realising pretty soon than even a "lighter" combination of my gear (Nikon D300s, battery grip detached, with Nikon 35mm f/1.8 lens) would be a problem in a hospital environment, I quickly decided to finally give it a go with my iPhone. I mean, what did I have to lose?
Even few weeks after all this, my vision is still blurry as I type this, but to cut the long story short, I absolutely loved it!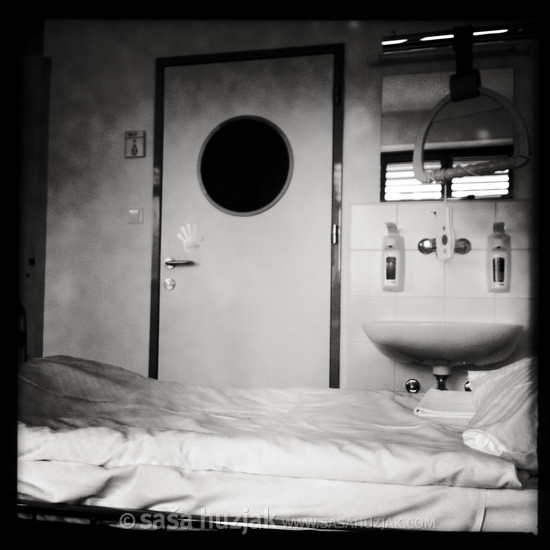 Empty hospital bed
Smart phone photography has been a hit for a few years now, mainly because such cameras have gotten much better and many applications and photo services, like Instagram for example, became popular. I am definitely not your usual first adapter user of modern bells & whistles gadgets, so I haven't taken a real plunge so far. I've been reading a lot about professional photographers using their smart phones for work, and I frankly didn't get it. Why would you use inferior equipment and put your job at stake by making sub-quality results? Mostly shooting in difficult conditions (as some of you may know, I shoot concerts, dance and theatre performances in low lights), I am very aware of how important it is to have the right equipment for the job. In my case, fast lenses and a fast and high ISO/low noise capable camera. Therefore, I am guilty as charged when I say my gear is invaluable to me.
I really thought smartphone photography was just a hype that would be forgotten as soon as another hype came along. But then, it was getting more and more published, even in mainstream media. With numerous weddings and model shoots done with a smartphone, great images by two professional photographers showed me that the smartphone photo revolution was happening big time and was here to stay. American sports photographer Brad Mangin, had his iPhone baseball images published in Sports Illustrated (a magazine well-known for its outstanding sports photography) and Dan Chung shot the London 2012 Olympics for The Guardian with his iPhone (with one or two extras, but nevertheless), both of them making some fantastic images! And not to forget, a known photographer and videographer Chase Jarvis published a book called "The Best Camera Is The One That's With You" in late 2009, full of images taken with his iPhone.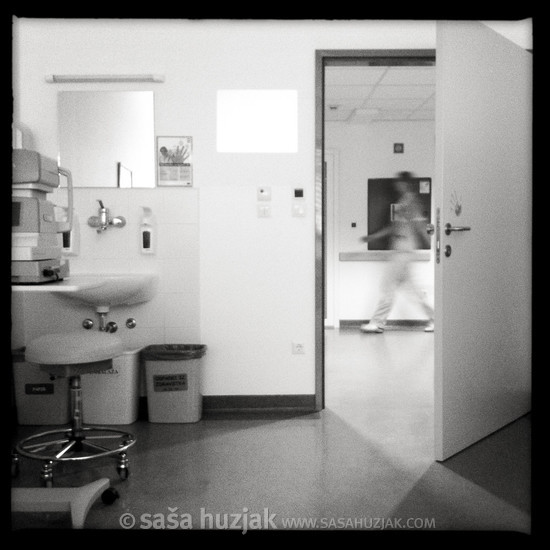 Waiting for the doctor
With my hospital situation, I wanted everything to be as simple as possible - I didn't want to process every picture with Snapseed (the application I use when shooting with the iPhone camera), so Hipstamatic was my weapon of choice. I liked to complete simplicity of it - I couldn't adjust the shutter speed or the aperture, and the focus was also pretty much given. Every morning in hospital I got eye drops to dilate the pupils of my eyes, which would make me vision totally blurry for a few hours. I used my iPhone as my eyes, so the photos would be a visual reminder of things that were happening around me in those out-of-focus moments.
I absolutely loved the small size of my new camera, not the mention the noiseless mode of operating it - no shutter click sound, nothing! I could use it like a proper ninja, without anyone knowing I was taking a photo of them, which was just brilliant! Candid photography, here I come!
I felt like a small kid discovering a new toy, and a shinny toy it was! I had a feeling I was falling in love with photography again, with all its imperfections and the waiting time to see your images (Hipstamatic takes some time to develop your prints).
In the end I was diagnosed with central serous retinopathy, which is "an eye disease which causes visual impairment, often temporary, usually in one eye, mostly affecting males in the age group 20 to 50 but which may also affect women". The causes for central serous retinopathy (CSR), which is also known as the central serous chorioretinopathy (CSC), are most often unknown, but it's known that stress appears to play an important role. Hm.. I was sent home, told to have regular checkups and, if the situation didn't improve in the next 3 months, I'd have to have a small laser surgery. Hope not.
In the end, I completely agree that it just comes down to the final image - if it's good, it doesn't matter what gear was used, which we tend to forget too often. Although I can't see using my iPhone for shooting music concerts in the near future (low light environment is something that smartphones are still not good at), I'm quite positive that I'll be doing much more other types of photography in the upcoming months. With my iPhone, that is.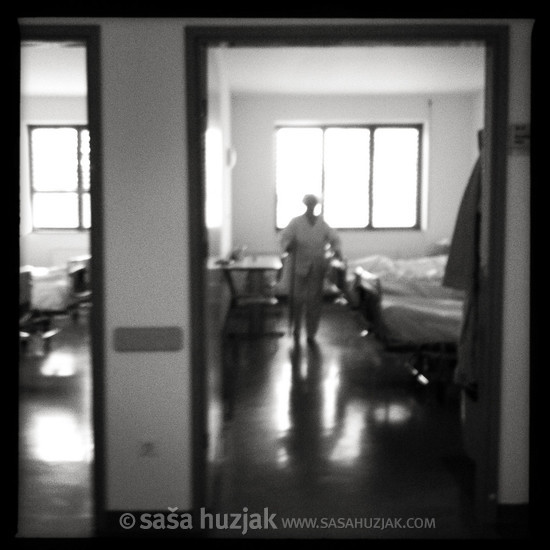 Blurry image of a lady in a hospital room, reflecting my blurry vision after getting eye drops for pupil enlargement for medical tests
PS: I have to add that all of the staff, doctors and nurses especially, at my hospital were just brilliant and made this sudden hospital experience, luckily, first one in the first 35 years of my life, the most enjoyable.