Madame Brumowski CD photography and graphic design
Monday, 08/02/2021
I was recently commissioned to do photography and graphic design for the debut album of Madame Brumowski. They are Slovenian rock band in which my wife Špela has an important role, actually to be precise - three roles: she is the singer, violinist and the songwriter of the band! :)
Madame Brumowski: Čas (CD, 2020), cover
Personal connections aside, the project around their debut album titled "Čas" (Time) got my creative juices really flowing because it's been a while since I did a CD cover graphic design, plus studio photography is something I was doing much more in 2020 and not just for the total lack of concerts we had worldwide (if somebody is reading this in 2050 or later, just Google - if that's still there - "COVID-19") .
The name of the band is connected with the Godwin von Brumowski (1889 - 1936), the most successful fighter ace of the Austro-Hungarian Air Force during World War I. Band members played with the idea of that proverb that behind every successful man there stands a woman so the imaginary Madame Brumowski came to life.
Aljaž, bands guitarist, is very passionate about that part of the history and is an avid collector of items from the World War I, so I immediately got an idea for the creative direction of the design. I took bunch of real objects from the WWI period, which belonged to soldiers of different armies and countries, he found and collected during the years, and photographed them in my photography studio.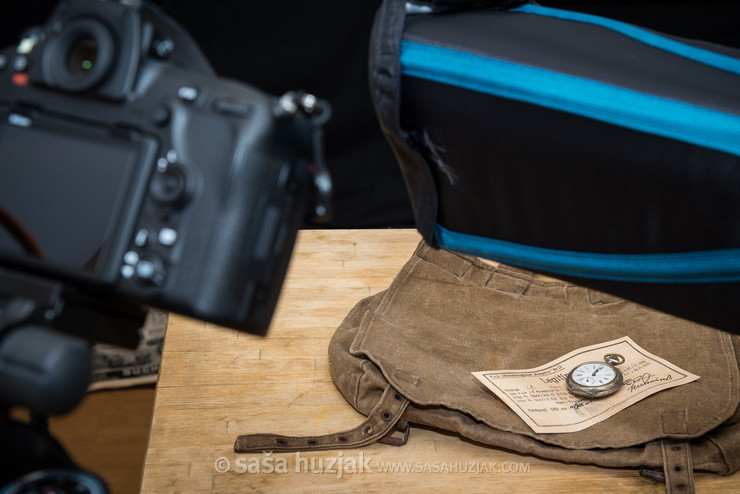 Behind the scenes: studio photography for Madame Brumowski CD
I wanted the images to be a darkish and moody with strong shadows, so hard lights with a lot of snoots and grids were used to get that feeling. To get consistent feeling, I decided to photograph everything with the same lens - Lensbaby Composer Pro II + Edge 80 optic was my lens of choice, for that known slice of tack-sharp focus in the desired direction, surrounded by beautiful bokeh. I used only speedlights with small modifiers (great ones from Rogue / ExpoImaging, to be precise) to get the desired effect and feeling.
Their debut album titled "Čas" (Time) was released late last year (beautifuly printed by Silveco) and I feel the design goes hand in hand with their great music - all in all, I'm really really really pleased with the final product! :)