An interview for the WishCAST podcast
Monday, 29/04/2019
WishCAM is a search engine for photographers (for now only in Slovenia), something like specialised yellow pages with portfolios and all that jazz (music pun intended) :) Let's say you want to hire a photographer for your concert, band promo portrait, theatre play or product photography - you type what you need, choose a town and voila, you just have to check the photographers portfolios and references and contact them. Easy peasy.
WishCAST: Koncertni fotograf Saša Huzjak, cover image (with yellow is the new black or vice versa styling)
But, WishCAM is also much more than that! They have a cool blog, fine tutorials and a photo related podcast (sorry to my international readers, all of that is in Slovenian language), plus they're doing photo workshops (more on that at the end of this blogpost). Given the fact that all of them have their own photography businesses, I don't know where they find the time for all that! :)
I recently got to know part of the team behind it, two fine photographers Grega T. Bohinc and Isa Gauvin who had the idea for me to join them on one of their podcasts. I admit I'm not much of a talker (if I knew how to talk / write, I wouldn't be a photographer - somebody said once) but I felt really relaxed in their company so I said why not.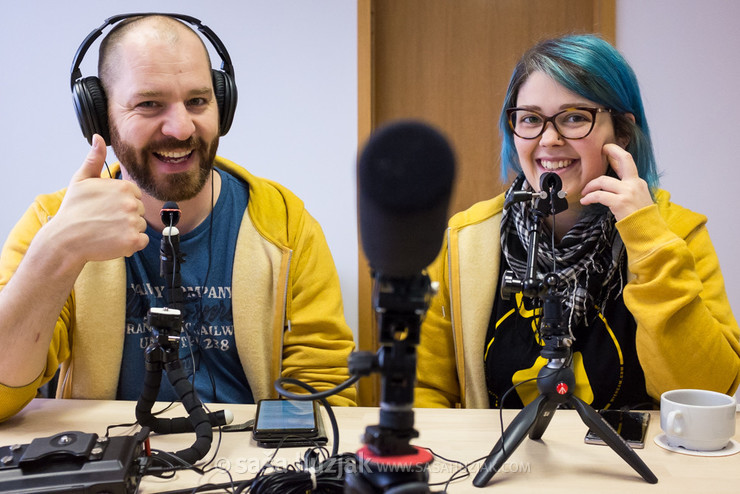 Grega T. Bohinc and Isa Gauvin from the WishCAM team visiting my SHtudio and trying to get something clever from me
Well, few weeks after, they came to my SHtudio and we did a lengthy talk about concert photography, my start in photography in general, photo equipment and so on and on :) If you understand the language, hope you'll find something interesting inside - if not, just enjoy the photos! :)
PS: Concert photography workshop
About the before mentioned workshops - we're planning to do a workshop about concert photography together, probably two days, most likely in September 2019 here in Maribor. If you're interested, be sure to subscribe to my newsletter (left column of this website) and to follow WishCAM's notifications about it. Hope to see you there! ;)