Cabaret New Burlesque
Narodni dom Maribor, Velika dvorana, Maribor (Slovenia), 04/04/2012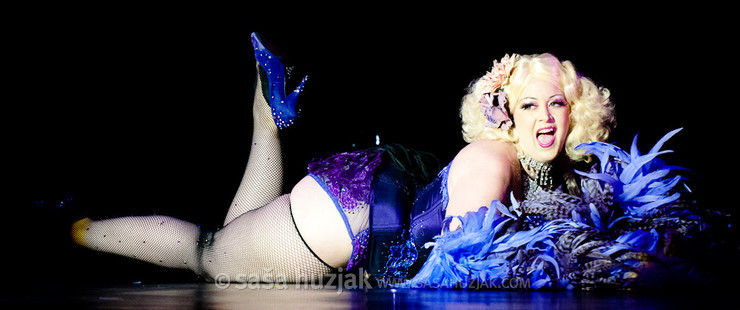 Dirty Martini (Cabaret New Burlesque) @ Narodni dom Maribor, Velika dvorana, Maribor (Slovenia), 04/04/2012
The wonderful women from the movie "Tournée" ("On tour") by Mathieu Almaric, award for best director at Cannes 2010, now perform live!
Cabaret, music-hall, sexual travesty, kitsch and trash are the usual words used when describing USA project imported to Europe called Cabaret New Burlesque. Under the artistic guidance of Kitty Hartl, five girls in their prime and one young gentleman reveal their bodies in a show full of eroticism and humor.
Add the The Flaming Lips song "Yoshimi Battles the Pink Robots" sung by Kitten on the Keys aka Suzanne Ramsey and you got yourself a show!
Used gear (for photo geeks):
All photographs, unless otherwise stated, are the copyrighted property of Saša Huzjak. All rights reserved.
Must not be used without explicit permission.
If you would like to
license
any of my photographs to use either online or offline,
order a fine art print
of your favorite photograph or
hire me
to shoot your band or event
please contact me
.